Advanced X Video Converter is a very useful program that is able to do many conversions between video formats as well as many of the operations a user want to do, like extracting the audio and join/split video files. All these packed in a nice and clean user environment.
In this guide we will explain how to convert any video file to a DVD disc. You will soon find guides about the other uses of the program in our site.
You can download a fully working trial version of the program by clicking here. If you want to register you can get a serial here.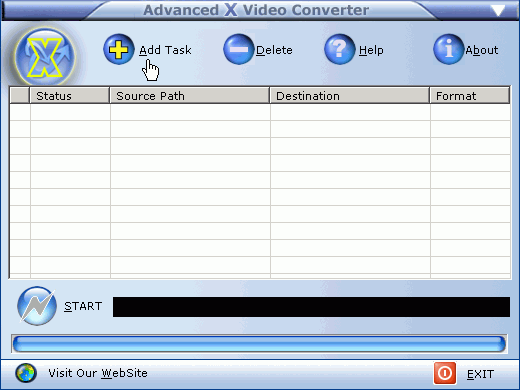 This is the main window of Advanced X Video Converter. Click Add Task.
---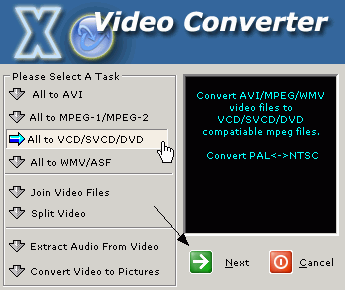 This window will come up, and you need to select the task you want to do. You can have a better overview of Advanced X Video Converter's features here. Our task is All to VCD/SVCD/DVD, so select that and click Next.
---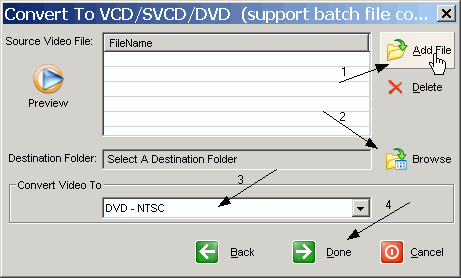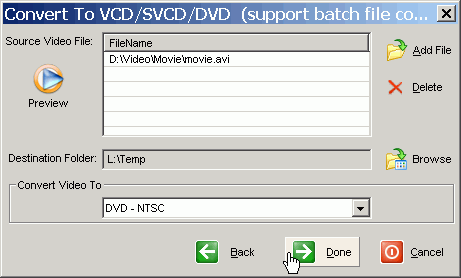 Here you can add the file you want to convert. Select Add File (1) and use the browser to add the video that is about to be converted. You also have to set the destination folder which is the folder the new files will be created. Click Browse (2) to do so. Of course you need to set the output format to DVD (3). Select PAL or NTSC depending on your source file. The second image shows how the settings should look like after you've finished with the configuration. Review everything to make sure it's OK and click Done (4).
---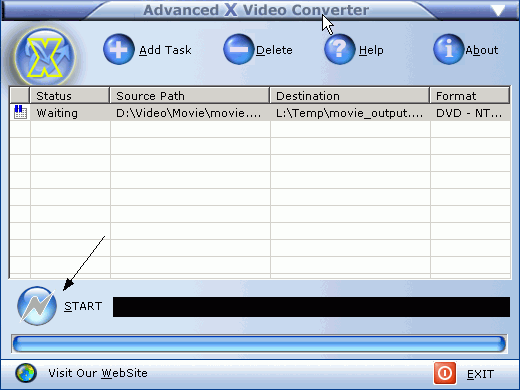 This should be the picture you'll get after you have added the task. You can add as many as you want and have then processed all together. Just click Start and within a few hours your DVD MPEG2 file will be ready. You can then use your favourite author and burn program and get your data in a DVD disc. If you don't know how to do that, there are plenty of guides in DVD Author and burn categories.
Advanced X Video Converter is a very good program. It was stable during all our tests even if we tried almost all possible conversions and tasks. Its speed is above the average and generally it's a handy tool for all these video conversions you want to do fast and easy.
You can see for yourself by downloading the trial version here!.