This is going to be a short guide on how to burn audio CDs using CopyToDVD. CopyToDVD is a very good burning program, allowing you to burn almost all kind of CD and DVDs, plus a powerful CD copy function. Apart from that, it's price is low compared to most other programs of this kind, while the variety of its features are definitely not smaller. In simple words, it can do exactly the same things like Nero, Roxio or any other program at a much lower price! You can download a trial version from our downloads database here. If you want to buy it, you can do so here.
CopytoDVD is pretty easy and self-explanatory, so there is not much for me to write! I will just guide you through creating your first audio CD.

After you have started the program, the following screen will appear :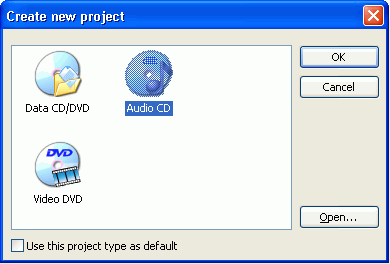 Of course, we want to create an Audio CD, so choose Audio CD as the type of the new project.
---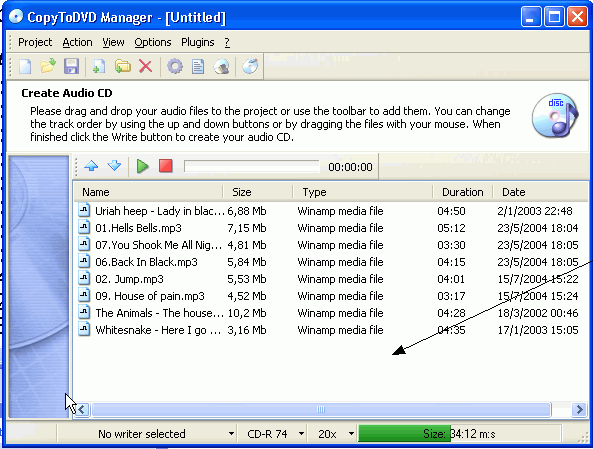 This is what the main interface looks like. Take a look at the helpful note on the top. This is all you need to do here. Open the folder with your music files, and drag-and-drop them to the project. Use the UP and DOWN buttons to set the order of the tracks. Next to them, there is a small player you can use to listen to a selected track, mostly to be sure that it is the one you want.
---

Finally, lets adjust the necessary writing parameters. Move to the status bar, at the bottom of the project window.



There are three pop up menus . Lets go through their functions shortly.
From the left :
In the first menu you can set the Volume of your System Drive, where your CD Writer can be found.
Next to it, you have to set the capacity of the blank writeable disc you wish to burn on.
Finally ,you have to set the writing speed. Here, remember that the lower the writing speed, the better the audio quality is. I usually burn my Audio at 8x or even less.
Also, note the useful bar at the bottom right corner of the Manager Window. It represents the percentage of used CD-R space, and automatically calculates the total listening time.Needless to say that this green bar should..always remain green!!
Finally select Action -> Burn disc and you're done!