This guide will help you create a disc that will contain titles from different DVDs. You can follow this guide to copy 2 movies into a simple DVD, like the example here, or add trailers, extras, episodes from different discs to one.
Before you start you should rip all the contents of the DVDs you want to use into your hard disk. You can find a guide for that here.

| | |
| --- | --- |
| | In this guide we are going to use the "Re-author" feature of DVD Shrink. So open DVD Shrink and click the Re-author button. |
---

| | |
| --- | --- |
| | In your right you are going to see the DVD Browser. We are going to find and select the DVD files we want to use. Double-click and open your hard disk, then locate the folder that you have the DVD files in and open that too. |
---

| | |
| --- | --- |
| | Here you can see the contents of the DVD. You can select any title you want and drag-and-drop it to the Re-authored DVD window in your left. DVD Shrink will analyse it. After you are finished with the first disc do the same for the other ones until you have moved all the titles you want in the DVD that you are going to author. |
---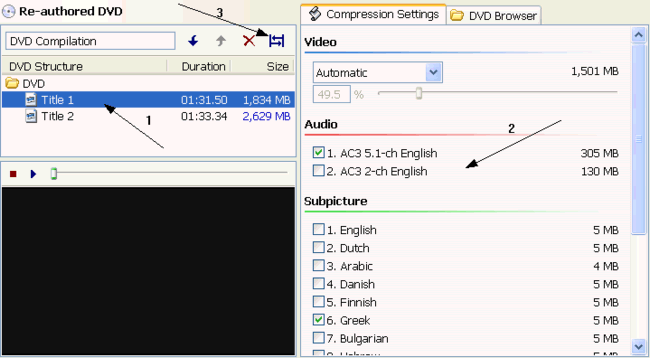 Now it's time for some editing. Open the Compression settings tab and then select the first title (1). Remove any unwanted audio and subtitles (2) - I suggest you remove all, except one audio tracks if you are adding two movies in one DVD as the quality is going to be really bad if you keep them all. Also click Start-End (3) so that you can remove the credits, see below for details.
---

| | |
| --- | --- |
| | This is only required if you are adding to movies into 1 disc in order to improve quality. Click the forward button (1) to remove any introduction screens and the backwards button (2) to remove all the credits and click OK. |
---

| | |
| --- | --- |
| | After you're done click the Backup button. |
---

| | |
| --- | --- |
| | Here select the usual DVD Shrink settings. (1) The destination - I selected Hard disk folder, remember that you should have Nero installed in order to use burning or image creation. (2) The folder that you put the files into and (3) to create the VIDEO_TS and AUDIO_TS folders. Then click the Backup options tab. |
---

Make sure you select deep analysis if you have added two movies into a single disc in order to improve quality.
Make sure all the settings are correct, click OK and you're done!