by hornswaggler502
This guide assumes that you have a Mac capable of playing back DVDs and are running OS X. It also assumes you have already installed Forty-Two per the instructions and have Divx or 3ivx or an equiv installed as well.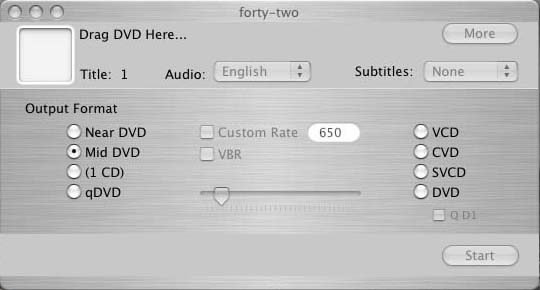 Open Forty-Two. You should now see this window. Don't worry at this point what all of the choices mean. We will get to that in a bit.
---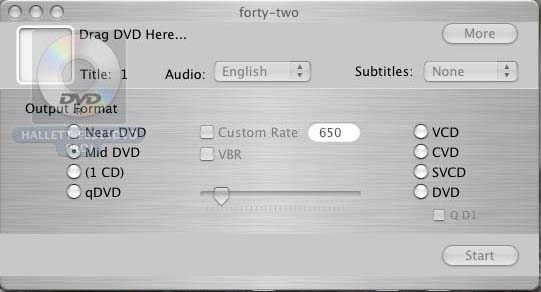 Insert the DVD you wish to backup, and drag it to the Forty-Two window where it says "Drag DVD Here...".
---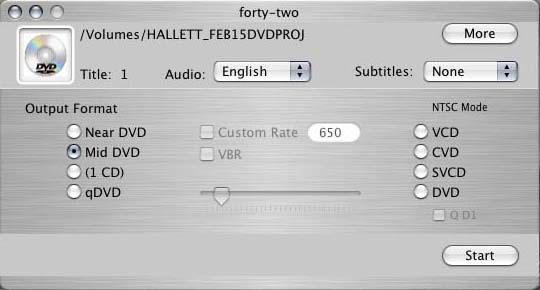 It will then process the DVD, finding chapters, titles, etc. Once that is complete. You are then ready to choose if you want to simply back everything up or click the "More" button, you will also see what chapters, titles, etc are in the movie so that you can backup a particular section of the movie. (see the picture below).
---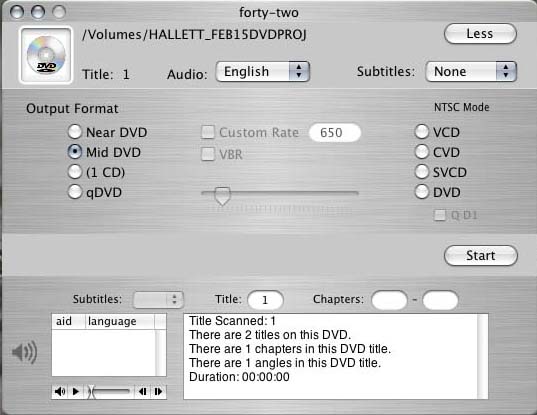 Next, you will need to select the format of the backup you are going to make. The items under "Output Format" on the left are Divx AVI output options. These will give you an AVI compressed with Divx as a result of the backup. This movie can be played back on any computer with Divx installed. The right column, which will be either "NTSC Mode" or "PAL Mode" depending on the type of DVD, offer you serveral complete disc copy modes, all resulting in a disc image (ISO) of the final backup. This file is then used to burn a copy of the DVD.
For this How-To, we are going to use the left column, "Output Format" to make a divx based AVI movie.
If you want a DVD quality movie, use the top choice, "Near DVD". Otherwise, use Mid DVD or if you want it to be around 700k in size, use the (1 CD) option. the "qDVD" option actually builds an AVI that is friendly to QuickTime playback. All of the above formats will playback in Quicktime, so choosing is really a matter of the size of the movie you want. I usually just use "1 CD" if I am just going to watch the movie on my computer. But "Near DVD" if I want to put the movie onto a DVD at some point.

Once you have selected your choice, click on "Start" on the lower right side.
It will now ask you for a location to save the movie. Find a suitable spot with enough space available.
---



Now it will start processing your movie. Unless you have a top end Mac here, you will be waiting for quite a while. I have had movies that took 5-20+ hours to process at times.
---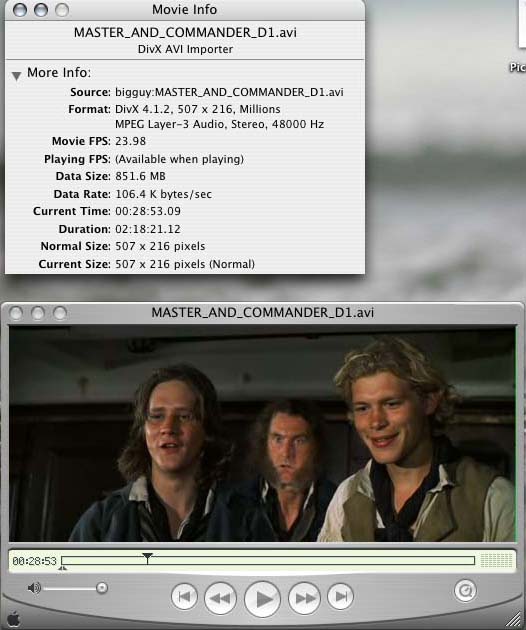 Once it is complete, your movie is ready to watch!
Here you can see the details, in QT of the movie.
Congrats, you have successfully backedup a movie copy of your DVD with Forty-Two.
To create a disc image file (ISO) of your DVD, please see our other Forty-Two How-To.
For more information on Forty-Two, visit the Forty-Two website.
This guide © hornswaggler502 2004