DVDXPlatinum is one of the most powerful DVD copy programs around. It supports almost everything, including ripping, shrinking, splitting, and burning! It is the only program that you will need when you are about to copy a DVD! Besides that it also contains a Simple version of the program from the ones that would like to copy the DVD in one click.
This guide will go through the process of splitting a video DVD to two DVD-5 discs (4,7GB). This way you can keep all extras and maintain original movie quality!.
You can get a copy of DVDXPlatinum by clicking here.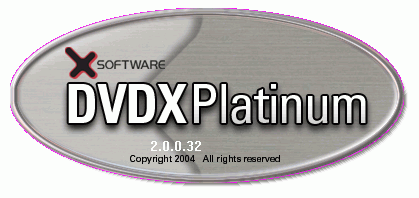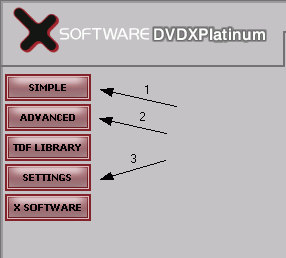 This is the left corner of the main window. I will explain what all these buttons do. (1) Opens DVDXpress (included) to copy a DVD with just 1 click! You can read a guide for it here. (2) Open DVDXPlatinum which we are going to use. (3) Opens the settings. For start click (4) to open the settings.
---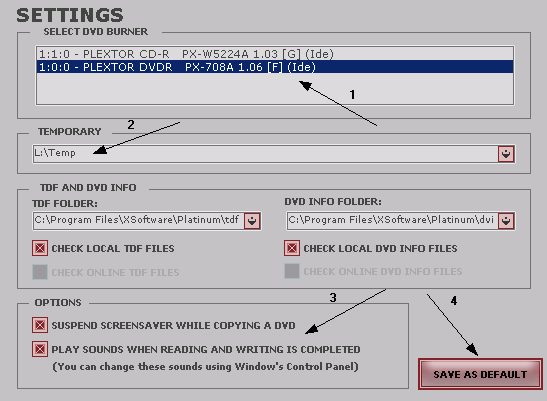 You only have to do this once. (1) Select your DVD burner (if you don't have a CD writer you will only see your DVD burner there). (2) Select the folder that the temponary files of DVDXPlatinum will be placed. Make sure the disc you use has at least 7-8GB of free space. Don't worry all the files that are going to be placed there will be deleted after the disc copy. It is suggested to disable the screen saver if copying a DVD (3). Click Save As Default (4). Then click the Advanced button you can see on your left (not shown here, it's button 2 in the step 1 above).
---



Insert the DVD in the drive and wait a few seconds!
---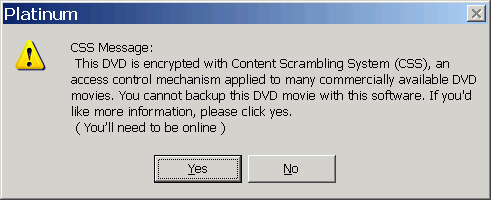 If you get this message you need a CSS ripper. No problem, you can download one for free from our site here.
---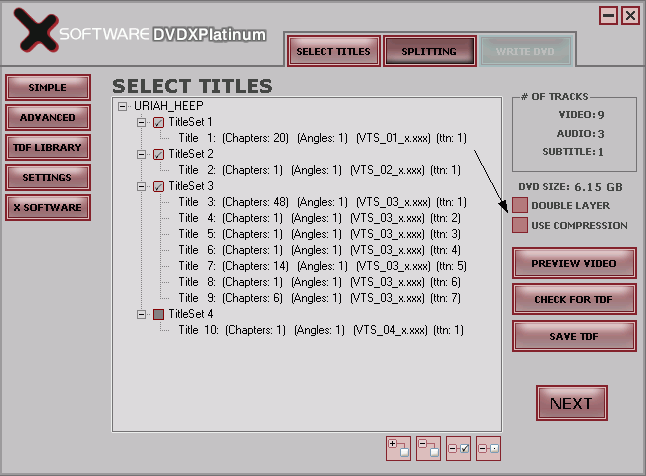 Here we are at the main window of this poweful tool. (1) Select the titles you want. If you are not sure which ones are the right select them and click the Preview Video button you see at the right. Do not select the Use Compression button. If you do that it will copy the disc in one disc, compressing it so that it fits. The guide about this is here. Click Next (3).
---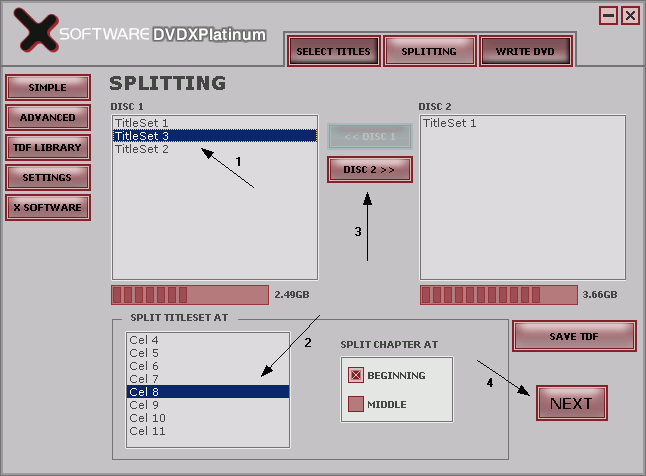 Here you can see which titles go at what disc. You can move a title you select (1) to another disc by using the right buttons (3) if it fits there of course. You can also select where to split the movie. (2)
Please make sure that you put less than 4,38GB in each disc.
Usually the program makes the best selections here so just click Next. (4)
---


Finally our copy starts. Easy wasn't it? Well even if you found things above a little complicated you should not worry. After 2-3 copies you are going to learn everything.
You can get DVDXPlatinum by clicking here.
×
We use cookies to personalise content and ads, to provide social media features and to analyse our traffic. We also share information about your use of our site with our social media, advertising and analytics partners.