I had tried dvdSanta when it was still in version 2 and I must say that I was not excited at all. That changed when I gave v3 of dvdSanta a try! dvdSanta takes care of your converting needs, as you can now easily convert your DivX / XviD and any other formats to DVD using only one application. Everything is very simple as dvdSanta encodes the files directly to VOB files and then authors the DVD, so all you have to do then is to burn (again with dvdSanta!). That saves you the hassle and the time you need to use an encoding application, then an authoring program to create the DVD files and then another program to burn, as dvdSanta takes care all these at once!
The MPEG2 encoder is pretty good, as the quality was similar to the TMPGEnc one when running in 1-pass mode. But the speed was better as it took me only 1 and a half hour to have the DVD ready, when in other case you need 2-3 hours to encode then almost another hour to author and then burn. The encoder is very fast, maybe not as fast as WinAVI's one, but this one offers better quality. Also the burning engine worked OK.
Besides all that dvdSanta has more features we will explore in future guide like, creating DVDs straight from your DV camera and creating a slide show DVD from your pictures.
You can download a trial version of dvdSanta here. If you wish to buy a serial you can do it here. So, grab the trial, install and let's start the guide!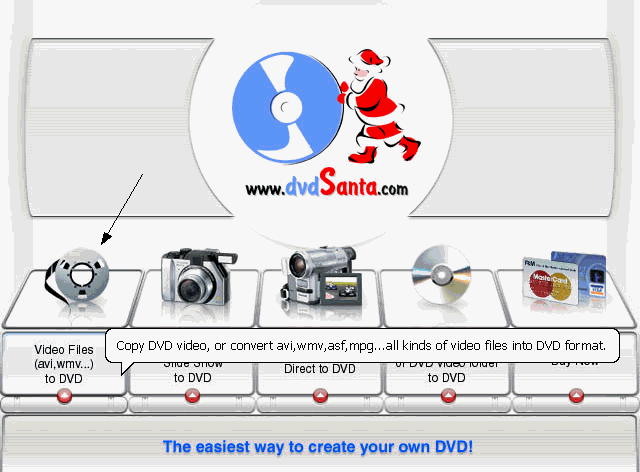 This is the first screen of dvdSanta. What you need to do now is select the Video Files icon that the arrow shows.
---



A new window comes up. First of all you need to add the media you want to convert. Note that if you put more than one, dvdSanta will encode them to one DVD, and put each of them in a new track. Now click Add Media to select the video files.
---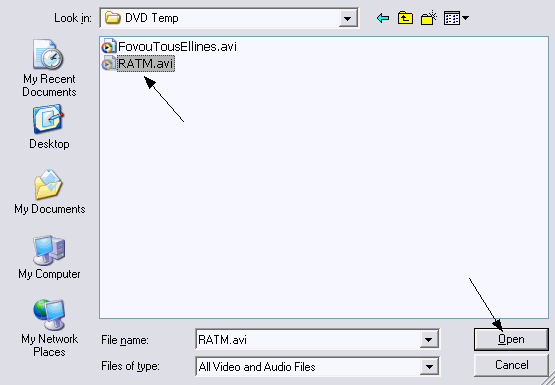 Pretty easy this step, just select the video file(s) you want to convert and click Open.
---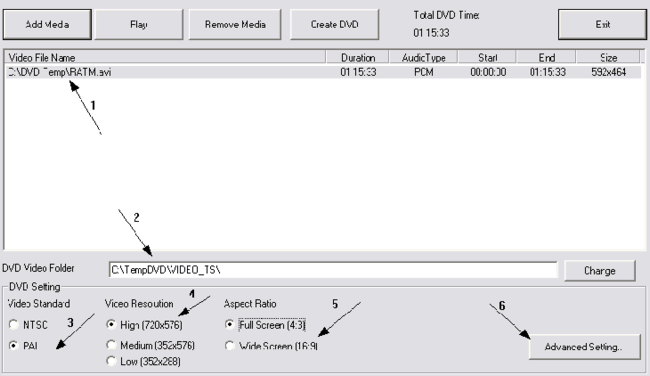 OK now we are in the main window. You need to make some simple settings here. Have a look in the video file (1) and make sure everything is OK. Then select the folder you will put the files into (2). Make sure you have at least 5GB free in the disc you will select and that the folder you select exists. Then everything is pretty simple. Select the format you want (3) between NTSC and PAL, then the resolution (4) (always use 720x576 unless the source file is very low resolution or quality. If this is the case then use Low or Medium). Next thing you need to select is Aspect Ratio (5). Select the right one depending on your source. Now you should be ready to start, but let's check the Advanced Setting (6) first to make sure everything is OK.
---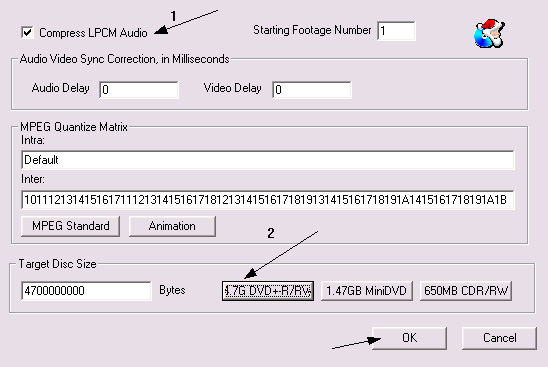 The default settings should be OK here, but make sure that LPCM audio is selected (1) and that as source you have set the DVD-R by clicking on the right button (2). That's all here, click OK.
---



You should be back in the first screen. Click Create DVD to start the convertion proccess.
---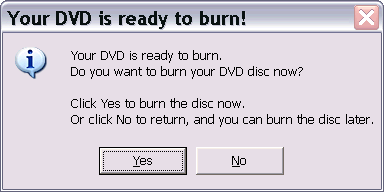 dvdSanta will now convert the video files in DVD. When it's finished it will ask you to burn the disc. If you click No, you can burn with your favourite burning software. If you click Yes the burning tool will open, so see below for details!
---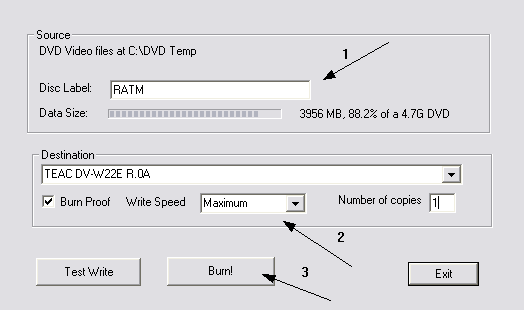 This is the burning tool's main screen. Not much things to do here. Just select the label you want your disc to have (1), then select the burner, the burning speed and the number of copies you want to make (2), and click Burn! (3).
---



That's it! dvdSanta begins burning and you will soon have your brand new DVD! As you saw, dvdSanta is fast, easy and... cheap!
Click here to buy a serial. For those that like to try first, the link to the trial version is here. Enjoy!