ImTOO CD Ripper extracts CD tracks to MP3, WAV, WMA, Ogg Vorbis, VQF, and APE files. With the ability to autodetect your CD-ROM and autolist tracks, you can rip tracks literally with one click. It is a very fast and practically organised all-in-one utility, which does not require a powerful system to run properly. Common users will enjoy the simplicity of its basic features, while the more speciliazed ones will surely appreciate ImTOO CD Rippers's configuration options and high performance.
You can download a free trial of ImTOO CD Ripper here. You can later convert the trial version you downloaded to full version by getting a serial number from here.
Now lets go together through the steps of ripping an Audio CD on our hard disc.


This is what appears when you start the program: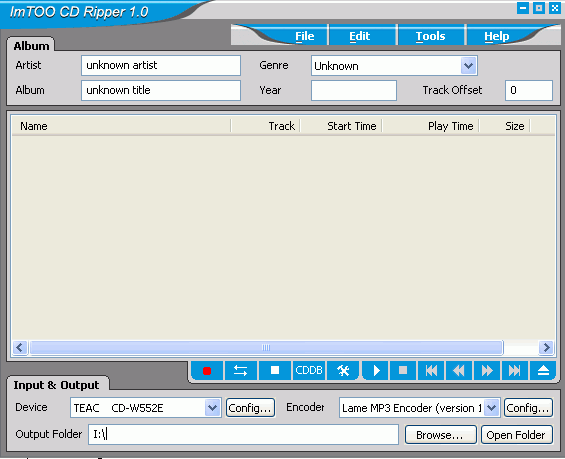 The multiple icon interface might look a bit confusing for a user totally unfamiliar with audio, but with our guide, nobody should have any trouble finding his way through.
The first step should be launching the Audio CD you wish to rip and configuring the basic input and output settings, at the bottom of the screen . So, lets focus on that .
---


Well, now its time to configure 3 important input and output settigs, at the bottom of the program's window.
- In the "Device" Menu you have to choose the drive of your Removable Storage Device where the Audio CD you've inserted can be found. After that, the program's track list will automatically be filled with all the tracks from your CD.
- Next to this menu , you can set the encoder you wish to use for ripping, in other words, the format you wish your ripped files to have. We will provide more details for this option in the next step. The default option is Lame Mp3 Encoder.
- Finally, set the output folder (by typing in the box or by browsing) on your hard disc where the ripped audio files willbe stored . Notice the "Open Folder" button which can be pretty useful for taking a fast look into your folders.
---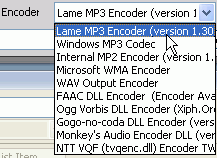 Lets have a look at the available Ripping formats available at the "Encoder" Menu.

MP3 : is the most commonly used format. Reducing the audio quality in such a way,that it is almost impossible to hear out the difference,while reducing the initial file size approximately 10 times, so you can store your tracks using only a few MB's. ImTOO offers two different Encoders for MP3 ripping : The latest version of LAME Encoder and the Windows MP3 Codec. Files ripped with one of the above, will have exactly the same format of course and will be compatible with all of today's players.
LAME ( initials from the humurous Lame Ain't an Mp3 Encoder ) is an LGPL MP3 encoder. The Open source development model allowed to improve its quality and speed since 1999. It is now an highly evolved MP3 encoder, with quality and speed able to rival state of the art commercial encoders.
The Windows MP3 codec is the encoder from Windows XP, outdated and gererally not recommended.
So, I would recommend to all of you using the LAME Encoder as it already has a better performance, and obviously much higher prospects of development , like any open source model today.
Internal MP2 Encoder : Actually, the older version of the MP3 format . Lower quality, bigger size. I cant really think of any reasons for using it today, besides creating audio for DVDs. (it is one of the supported formats of the DVD standard)
Microsoft WMA Encoder : Again here, a built-in encoder by Microsoft .WMA (Windows Media Audio) is a format which is supposed to offer good quality in lower bitrates, like 96kbps. In action, the difference between it and Mp3 isn't that big so that someone can say its worth using. Besides that it's not conventional with some mp3-related programs, and portable mp3 players (no iPod support!), but most software players support it.
WAV Output Encoder : WAV is a format with higher audio quality than MP3, but with a file size about 10 times bigger than an MP3 file. In other words, its uncompressed ( no frequencies cut at all ) just like an AudioCD. Use it only if you want to edit the files or maintain original quality.
OGG Vorbis DLL Encoder : Ogg Vorbis is a new audio compression format. It is roughly comparable to other formats used to store and play digital music, such as MP3, VQF, AAC, and other. It is different from these other formats because it is completely free, open, and unpatented. Vorbis files can compress to a smaller file size and still sound fine; for a given file size, Vorbis sounds better than MP3 .OGG's main drawback is that its a rather newly developed model and therefore uncompatible with some older products generally. Apart from that, most people have already an mp3 collection and it is not suggested to change between compression formats. Ogg Vorbis is the most promising audio codec today.
Now, the other DLL Encoders available (FAAC, Gogo-no-data, Monkeys Audio and NTT VQF) are there mostly for advanced users who focus on a specific feature of one of the above. In other words, those are some really rare formats ,which a common user should not bother testing.
As a result from all the above, my choice on the guide is the Lame Mp3 Encoder. It will generate very high quality Mp3 files, playable in all software audio players as well as iPods, car stereos etc. Always feel free to experiment though!
---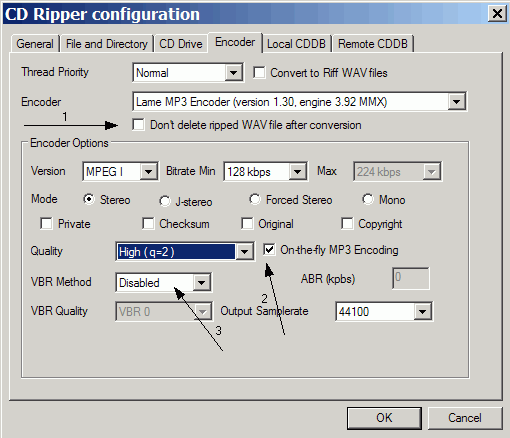 There are some additional encoder options you can select if you click the "Config" button that is right next to the encoder option.
In our example lets see the options for Lame Mp3 Encoder. Note the "Bitrate Min" option? These is the bitrate your files will use. The bigger it is, the better the quality. However the files will get bigger as you increase the bitrate as well. For general usage (portable players, iPods, etc) 128kbps should be enough. If you are going to playback the files in a good stereo system or plan to store them in your hard disk as a backup of the originals, I suggest using at least 192kbps though.
I suggest using "On-the-fly MP3 encoding" (2) which encodes the MP3 while ripping from the CD. If you do not select it, the track will be first ripped in a WAV file and then encoded in an Mp3. You can then select option (1) to keep that WAV files. (no real reason to do that unless you want to edit them or something like that).
You can also change the quality setting from Normal to High as it will create better quality files with no big difference in speed.
Finally I suggest you leave VBR Disabled (3) as it creates many problems with editing programs, standalone Mp3 players, car stereos, etc.
When you're done, click OK.
---

Well, the last thing to do before starting to rip, is to edit some information on the album and tracks which are about to appear on your hard drive.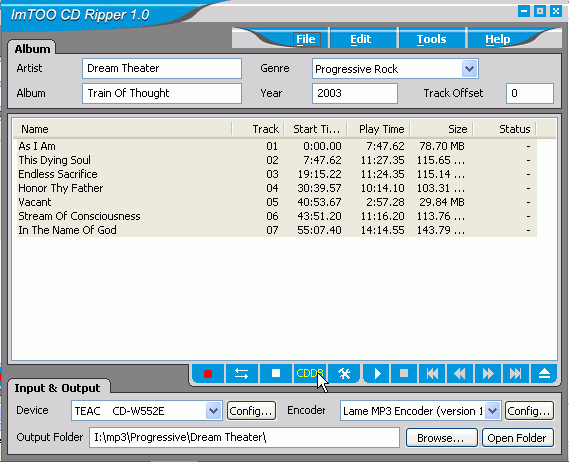 If you are connected to the Internet, click on the CDDB button as in the example to make Imtoo CD ripper look up in the CDDB database : all necessary information on the album and tracks will be automatically added. Note that this only possible if you the CD you are about to rip is registered there, eg an album (even a "burned album" but NOT a Compilation Disc you have made yourself)
In other case, you will have to simply type in the the information manually.

If everything is set ..you are ready for the final step. Well, all you have to do is to press on the red button and a the audio CD should be succesfully ripped after a short while, depending on your device's speed, your PC's power and the encoder you have used.