As Blu-ray drives become more and more common, especially in laptops and many quality conversion software are being released, many users start using Blu-ray discs as the source of their encodings, in order to get excellent quality HD movies, especially 1080p and 720p instead of just the 480p resolution offered by DVDs. However Blu-ray discs have more complicated protection against ripping than DVDs hence adding an extra layer of difficulty to the whole process. In this article we will use the most popular decrypting tool, AnyDVD HD and show how to rip a whole Blu-ray disc to the hard drive in order to convert it later.
You can download AnyDVD HD by clicking here. You can also visit Slysoft's homepage for more info here.
What is AnyDVD
AnyDVD HD is a small program that runs on the background and detects whenever you insert a DVD or Blu-ray disc in your drive. It then runs by placing itself between the data your drive provides and the operating system, circumventing any known protection mechanisms the disc may have, automatically providing you with an unprotected disc, ready to be copied or ripped. It also removes the region code, plus the AACS encryption and the BD+ copy protection most Blu-ray discs have.
Why rip the whole Blu-ray to the HD, if I just want to encode it?
As video encoding, especially in High Definition takes a lot of time, ripping the whole disc at first and converting later will actually save you time in the long run. Also it will protect your optical drive from excessive usage during the encoding process. The downside is the huge free disk space you'll need, which could be as much as 50GB, depending on how much date the Blu-ray disc holds.
Step 1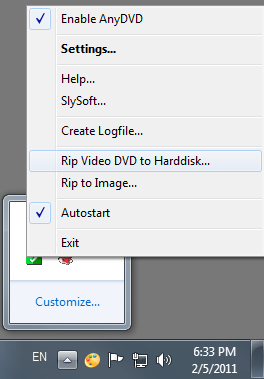 Insert the Blu-ray disc in your drive and wait until AnyDVD recognizes it. Then find the AnyDVD icon in your tray (the fox looking one!), right-click on it and select Rip Video DVD to Hard disk. Don't worry about the use of the "Video DVD" term, it will work for Blu-ray as well.
---
Step 2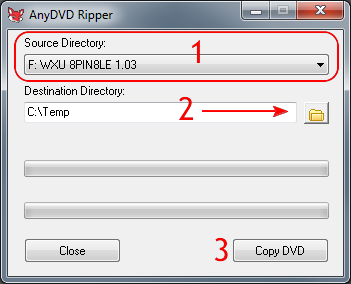 Here select the Source Directory (1), which actually is just your Blu-ray drive. Then choose where you want to save the files (2) and finally click Copy DVD (3) to start.

---
Step 3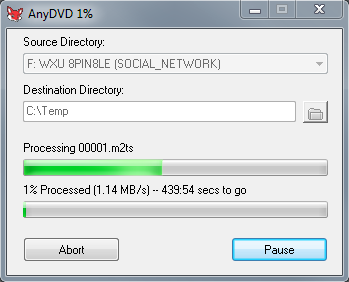 That's all! A few minutes later you'll have all the contents of your Blu-ray disc unprotected and copied in your hard drive for further processing.