The new Windows Vista are finally here and, like it or not, they will most possibly be the next OS the majority of PC users will use. In Windows Vista, and more particularly in Home Premium and Ultimate versions, Microsoft has included their new DVD creation program, simply called Windows DVD Maker.
Mini Review
Windows DVD Maker has a simple wizard-like user interface allowing you to easily create your DVDs. Even though the advanced user would like to have a few more options available, we can say for the purpose that this program was made, which is to easily convert your files to a DVD what is offered is enough.
In the other hand, we cannot say so for the media support. Windows DVD Maker was able to convert DivX, XviD, MPEG and of course, WMV files flawlessly, however it couldn't read AAC audio off AVI files, couldn't for some strange reason read all the DV camera files we threw at it and didn't recognize Matroska (MKV) and OGM media files at all. Also there is no option to add subtitles or more than one audio track. As a result, if you need to convert from these formats, add another language track or include subtitles you have to move to another solution that works under Windows Vista, like ConvertXToDVD. A big advantage Windows DVD Maker has, over similar simple solutions is that besides video conversion it can create slideshows DVDs from image files. Yes, other programs like PhotoDVD can do that, however Windows DVD Maker is able to merge both video and image files into one DVD! That way you can convert your vacation's video from your digital camcorder to DVD as well as include the images you took with your digital camera in a nice slideshow, both in the same disc and selecting what to see from the menu.
Leaving the lacking media support, we found that menu creation and the burning engine both worked very well. Windows DVD Maker will create very beautiful menus with nice effects and background video, making your home made DVDs look like professional authored discs, while the burning engine worked just fine and didn't produce a single coaster. Unfortunately we cannot say such positive words for the conversion speed, which was simply, horrible. It took it 7 hours to make a single DVD project that was converted in just 2 hours with ConvertXToDVD. Certainly not Windows DVD Maker's strong point.
As a bottom line, if you are just looking for a simple way to convert your files to DVDs, and you are only doing a limited number of conversions Windows DVD Maker should work fine for you. However, the serious problems it has, most importantly lacking media support and essential features for some users like subtitles or multiple audio files, including the awful conversion speed for those that use it often will lead most users using an alternative program instead of Microsoft's solution.
---
Guide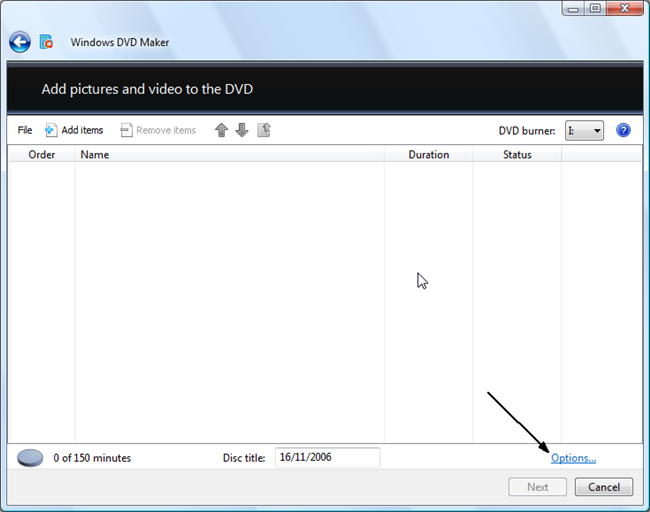 This is the main window of Windows DVD Maker. First of all we are going to explain the Options so click where the arrow shows.
---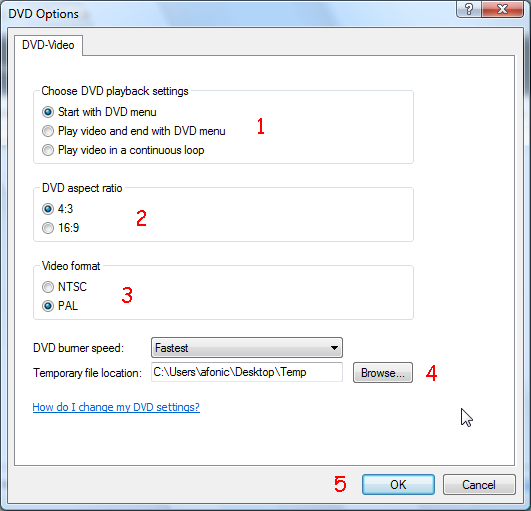 First of all you can select the playback settings (1), between starting the DVD playing with the menu (default action for most DVDs), play the video first and then display the menu or play the video over and over again in the loop and only show the menu if the viewer presses the "menu" button on its DVD player. DVD Aspect Ratio (2) should be set to the same like the source video files you have or resizing will occur and your movie will look funny. The video format (3) option should be set the the format you region uses. If you are not sure which system you use use this map to find out.
Finally you should a burning speed (if you face any compatibility problems try using a low value like 2x) and a temporary folder in a drive that has at least 5GB of data free. (4) When you are done, click OK (5) to move to the next step.
---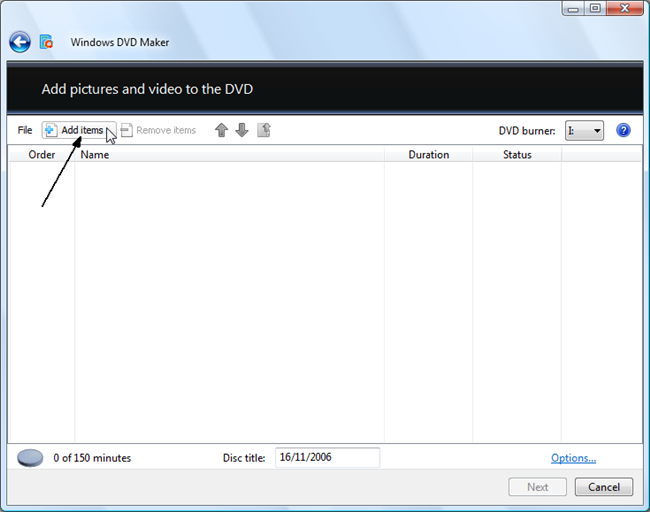 To get started you need to add the files you want to convert to the DVD format. Obviously, to do that select Add items on the top of the window and select all the files you are planning to put in your new project. You can add both video and image files, Windows DVD Maker will automatically put all image files in a "slideshow" category.
---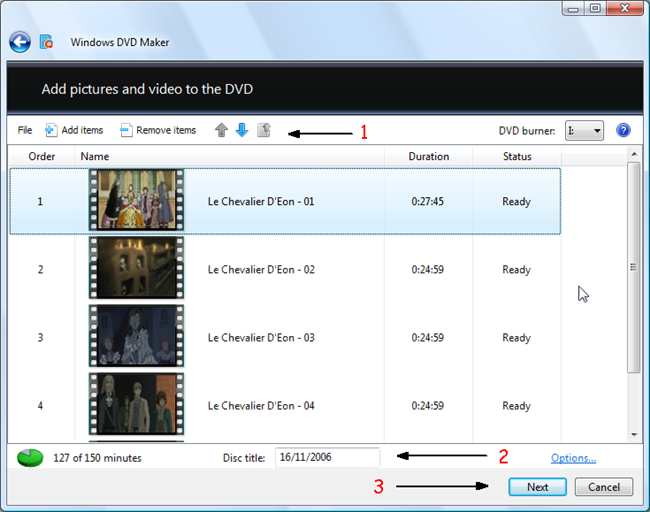 That's what Windows DVD Maker's main window will look like after you have added the videos you want to convert. In the top controls (1) you can add more items, remove some you already added and set the order you want to put them in the DVD. In the bottom controls (2) you can set the Disc title and see the space that is filled up (Windows DVD Maker uses a standard bitrate so you won't be able to add video than is longer than150 minutes nor adding less video will improve quality). When you have added the video files you want in the correct order click Next (3).
---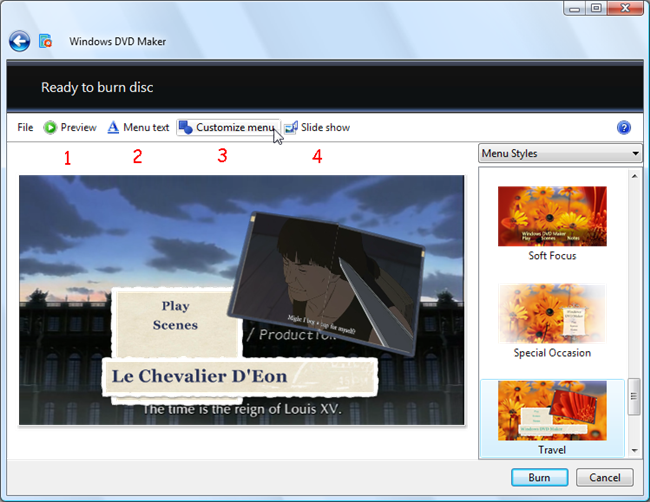 This is the menu editing screen. In the right side you can select the menu style you want to use. On the top you can use the Preview (1) button to check how your DVD will look like, the Menu Text (2) button to change the "Play", "Scenes" and title font face and size. We will explain the Customize menu (3) button in the next step, while Slide Show (4) is just a simple option screen that allows you to select the background music as well as the seconds each picture will appear for the slideshow.
---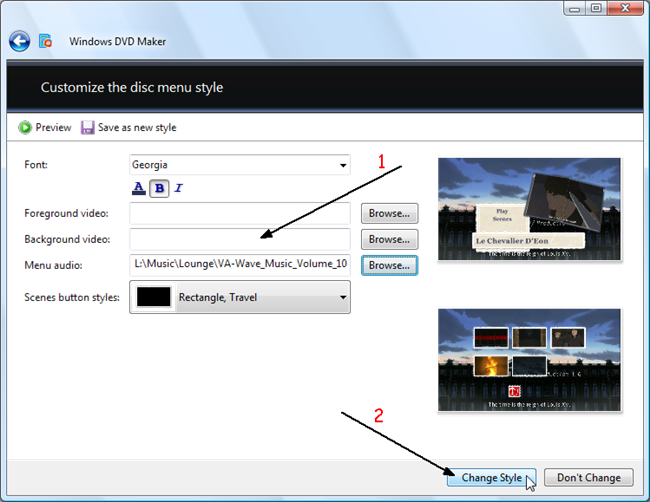 Lets explain the options (1) you can change in your menu one-by-one. Top of the list, the font options where you can set the font to use and basic options like underline, bold etc. Right next you can select the video that will play in the menu background and in the foreground (depending on the style you have selected the foreground position may differ). If you leave these blank Windows DVD Maker will automatically use one of the videos that you have added. In the menu audio screen you can select an audio file to use as background music in the menu, while in Scenes button styles you can select the shape and style of the scene select menu buttons as shown in the 2nd preview in this page. When you are done select Change Style (2).
---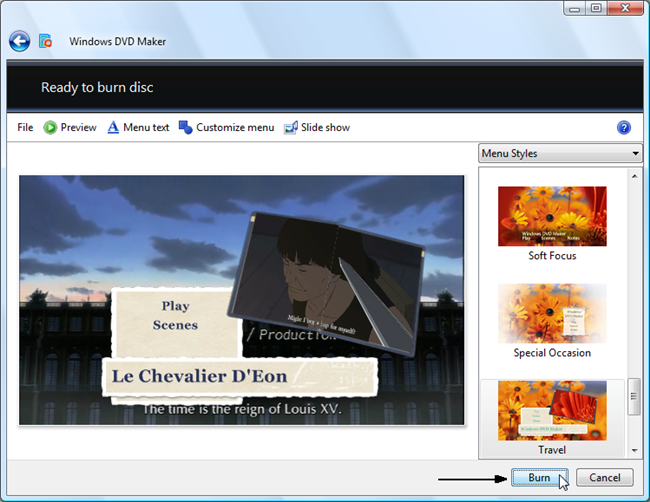 Everything should be set to get your DVD converted and burn right now! Just click Burn and you are good to go! Remember to put an empty DVD in the drive and do something else for the next few hours! Should you need any help, just use our forums (and not the comment form below!) and ask your question.