Nero is probably the most popular DVD burning program out there, as it comes bundled with many new computers and DVD drives. However, as I can judge from the messages I get, many users get confused from the many options that are available in the program, so in this guide we will clarify one thing: how to make a DVD video disc that plays in standalone players from a folder full of IFO, VOB and other files you have on your hard drive. If you want to create a DVD disc containing data or music files, simply select DVD-ROM (ISO) option and not what we show in this guide. Also at the end I have an extra step that shows how to burn an ISO file, if your DVD is in that format.
If you don't have Nero or another program you can also check out CopyToDVD, a lightweight budget solution. You can read a guide here.
Step 1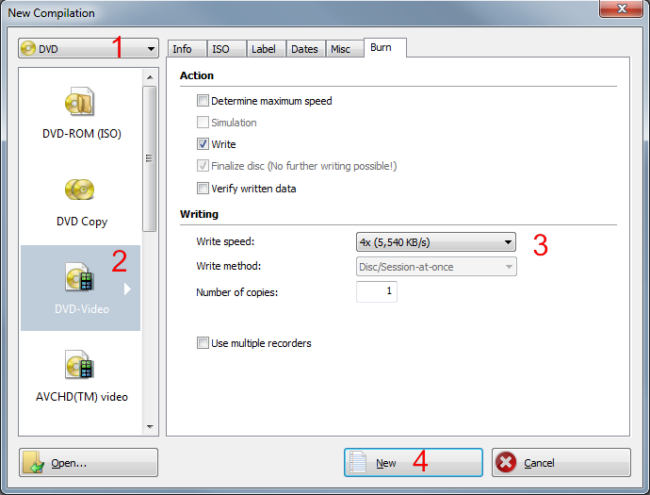 This is the default window when Nero starts, if it doesn't come up just go to New button in the top left corner. Here select DVD (1) as the type of media you want to burn and then DVD-Video (2). I suggest selecting a low burning speed like 4x (3) for DVD video discs especially if your standalone player is a bit old. Finally click New (4).

---
Step 2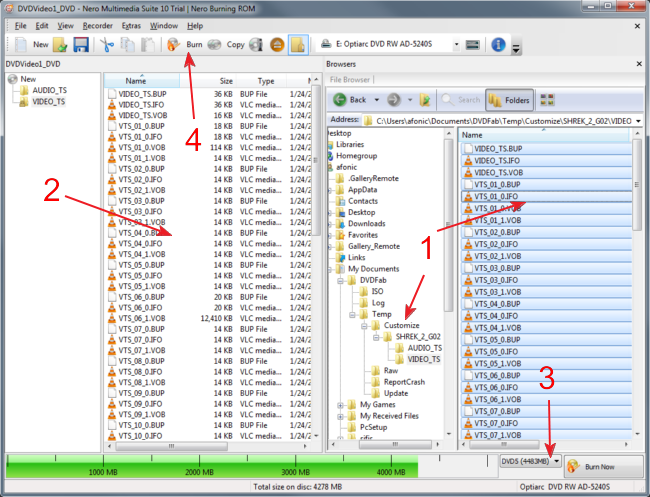 Here just find the files that you want to burn in the DVD, select them all (1) and drag them in the VIDEO_TS folder (2). It is important that you put all the files inside the VIDEO_TS folder and not in the DVD root. Then make sure DVD5 is selected (3) and click Burn (4).
Keep in mind that we are burning ready DVD files. If you have another type of video files, like avi or mkv for example you need to convert them to DVD format first. Read this guide to learn how to do that.
---
Step 3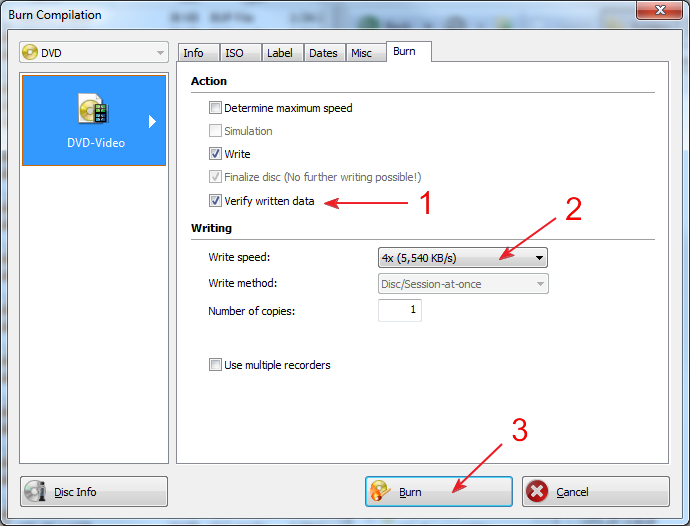 Here you can optionally select the verify (1) the disc after it is burned. It will take more time, but you are sure that you have a correct copy before you delete that DVD files off your hard disk. Remember what I said about Write speed in step 1 (2). When you are ready add a blank DVD and click burn (3).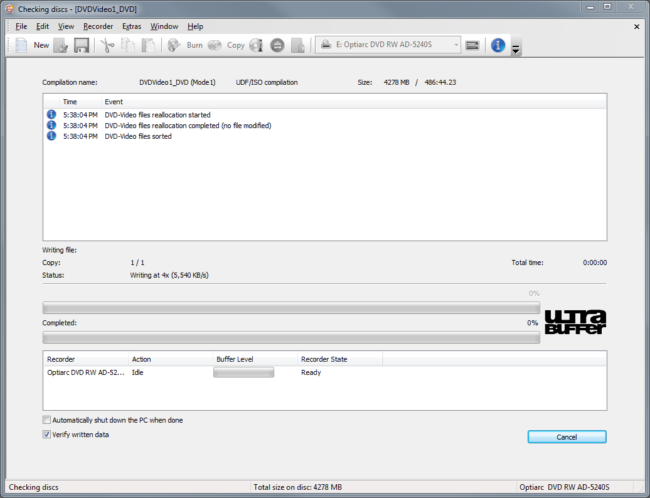 That's all! Now just wait a few minutes and your DVD will be ready.
---
If you have an .ISO file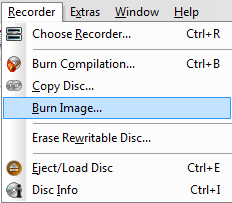 If you have your DVD already in an image format, like ISO, NRG or other you don't have to follow this guide. Just choose Recorder -> Burn Image from Nero's menu, select your image file and then just follow step 3, to correctly burn that file.
That guide should cover most of the cases! If you have any trouble or questions just use the comment form below.