This guide show you how to convert a VCD to a DVD. Actually all you are converting is the sample rate of the audio to 48Khz and then you author the DVD. The tools we are going to use are TMPGEnc, BeSweet and BeSweetGUI, and maybe VCDGear. Let's start now!

| | |
| --- | --- |
| | First of all you need to copy the dat file from the VCD to your Hard disc. You can find it in the MPEGAV folder of your VCD. Copy it to a folder in your hard disc and rename it to something like video1.dat. Your folder should look to something like: |
---

| | |
| --- | --- |
| | If everything is allright your folder should look like this. Now open TMPEGEnc and load the MPEG Tools (File -> MPEG Tools). |
---




Select the Merge & Cut tab. In Type select MPEG-1 Video-CD. Click add and load both video files. Select an output file and click Run.
Tip: If your files have an "Insert CD 2" dialog you can double click on the file in this dialog and set the end point just before the dialog comes up.
---

| | |
| --- | --- |
| | After that we'll need to split the audio from the video. Click the Simple De-multiplex tab. Load the file we created in the step before and select a video and audio output like in the picture. Click Run. |
---

After that we'll need to convert the audio from 44,1KHz to 48KHz which is the valid value for a DVD. If you have a VCD with 48KHz you don't need to follow this step (GSpot is a good utility to tell you this). Load BeSweetGUI. (1) Make sure the BeSweet.exe is where the GUI points and then load the .mp2 file we created in the step before. Now click the SSRC tab and put the settings as I show in the picture below. Click BeSweet to come back to this screen. Check these two value (3) and select MP2 as the output format (4). Finally click Mp2 To Mp2 (5) to start the process.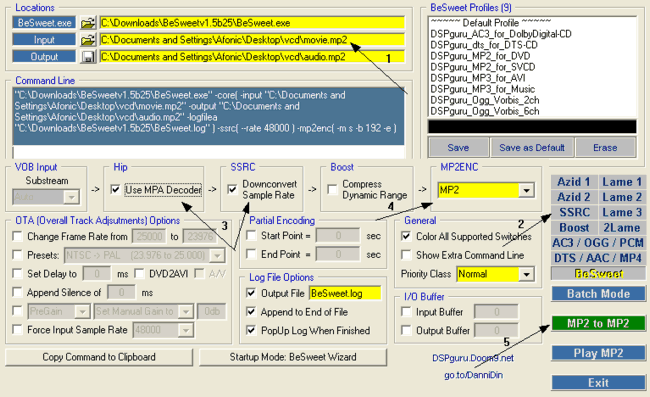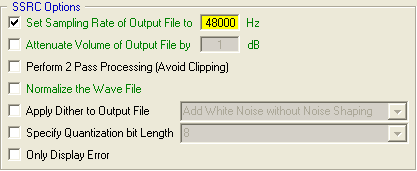 ---

All that's left is author the DVD. We have two authoring guides that you can follow below. Make sure you select the right video file (the one we create in Step 4) and the right audio file (the one we just created with BeSweet). Have a look:
> Using DVD X Maker
> Using TMPGEnc DVD Author
---
Note:
Sometimes .dat files are corrupted and create problems. Since I had some touble I suggest you get VCDGear software you can find here and perfom an error fix just before you start the guide: