After many questions and posts in the forums from our users we deciced to write a complete guide to downloading videos from YouTube, in order to store them in your PC or even convert and copy them to your mobile device. We have decided to show three different ways, so that everyone can use one of them (or even a combination of them) depening on his needs.

This guide will explain how you can easily download the movies from
YouTube
and safe them on your hard disk. There are many ways to do so and this guide will explain the following:
- How you can download the movies with the
unplug
extension for Mozilla Firefox
- How you can download the movies using
Save2pc
(simple copy and paste URL program)
- How you can download the movies with
YouTube Robot
(advanced program with many extra functions and options)
Download movies using the Unplug extension for Mozilla Firefox
When your using the popular Mozilla Firefox browser a very simple way to download Youtube (and other media files) movies to your hard disk is using the Unplug extension. The Unplug extension scans the website your browsing for media files and let you download these, so it works in most sites using Flash and other videos as well (besides Youtube). You can download it
here
.

Once you downloaded and installed the tool all you have to do is go to the YouTube page where the video you want to download is located, once viewing the video go to the top Tool bar > Tools > UnPlug.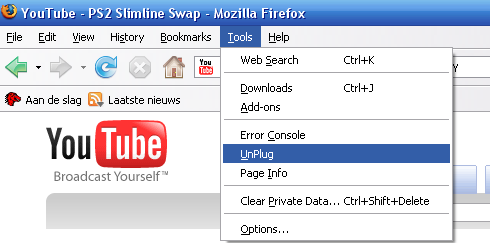 ---

By selecting the UnPlug option you will be redirected to the UnPlug page where you will see all the media files which were located on the page you were viewing. To download the movie you mostly will have to use to first link, the download will start shortly and you will have the movie from YouTube on your hard disk in .flv format. Keep in mind that UnPlug "helps" you by marking the file you most likely need to download.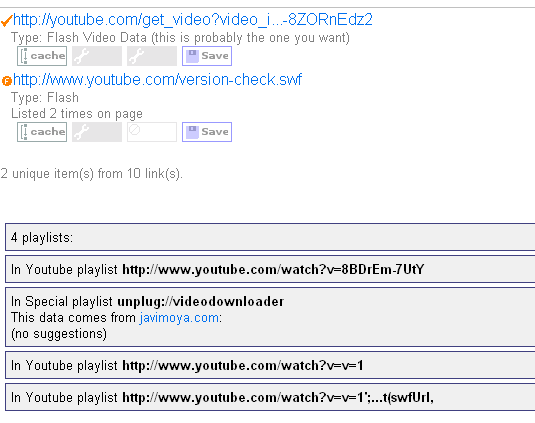 Now you have the video file in .flv format on your hard disk, to watch to movie you will need a FLV Player you can download a freeware player
here
.
Generally UnPlug is a great little extension that will serve you well if you are using Firefox as it works with most sites offering Flash videos. It is also cross platform, meaning you can use it both under Windows and Linux (and of course any other platform Firefox runs).
---
Download movies using Save2pc
Save2pc is a small freeware program with which you can download movies from YouTube by just copy-pasting the URL. You can find it
here
.

Once you downloaded and installed the program you should see a similar screen like the one below depending on the version you got.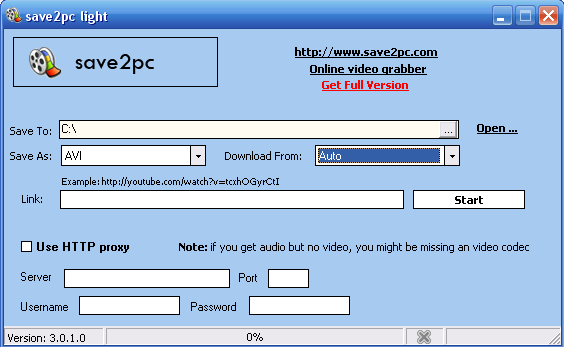 ---

All you have to do now is copy the URL of the page where the video is located in Youtube and change the "Save To" directory to the one you want, press Start and you're done.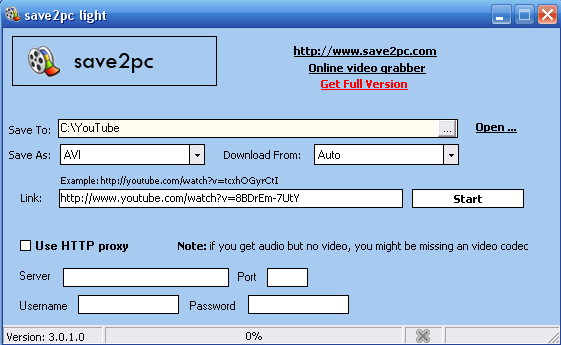 ---
Download movies using YouTube Robot


YouTube Robot is a more advanced program to download movies from YouTube then the programs discussed earlier. YouTube Robot allows you to automatically download movies from YouTube to your computer, mobile phone, iPod, iPhone, Pocket PC, PSP, or Zune. And you can use YouTube Robot as an .flv converter it can convert FLV to MP4, WMV, AVI, MPEG, MP3, 3GP, MP3, and WMA extensions. You can download YouTube Robot from
here
or visit their website to find out more
here
. You can use YouTube Robot for many things, however this guide will only cover the basics of the program (e.g. converting to MP4 works the same as converting to any other format). Once downloaded and installed YouTube Robot you should have a screen similar to this one. We'll start by explaining the various program controls.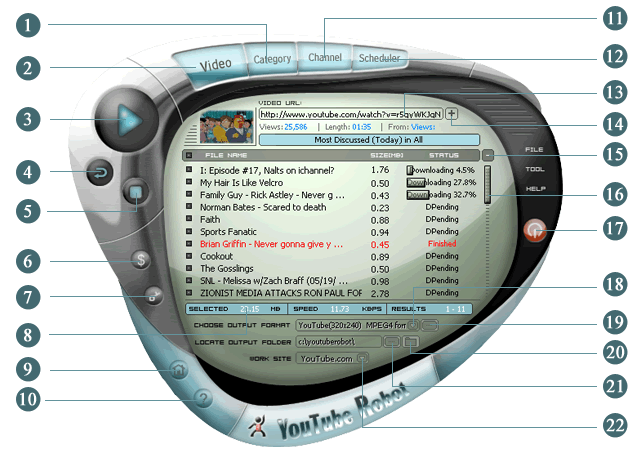 | | |
| --- | --- |
| 1 | Browse video by Category |
| 2 | Browse video by Most recent/Most viewed/Top Rated/Most Discussed/Top Favorites... |
| 3 | Play high-lighted video (after downloading, it will play local flv file, otherwise, it will play video from Youtube.com) |
| 4 | Convert selected video to current selected output format |
| 5 | Stop conversion |
| 6 | Purchase Online |
| 7 | Register the program, enter "Registration Name" and "Registration Code" |
| 8 | Visit Home http://www.youtuberobot.com |
| 9 | About YouTube Robot |
| 11 | Browse video by Channel (Most Subscribed This Week/This Month/All time or Custom Channel) |
| 12 | Add scheduler event to download video automatically. |
| 13 | Type video URL, support all URL on Youtube.com which will return you video list. (Support just type a Keyword, it will show you the 1st page videos that match this keyword on Youtube.com) |
| 14 | Apply the video URL |
| 15 | Delete all selected videos |
| 16 | Scroll bar |
| 17 | minimize YouTube Robot to Tray bar, right-click the tray icon, choose "Exit" to close YouTube Robot. (you can click "Ctrl+Button 17" to close it directly) |
| 18 | Choose Output format |
| 19 | Change detail settings for current output format profile |
| 20 | Open output folder, converted files should be there |
| 21 | Set output folder, default is "C:\youtuberobot" |
| 22 | Choose supported sites. (platinum version will support more sites) |
Downloading movies using YouTube Robot

There are many ways of downloading movies using YouTube Robot, the most important ones will be discussed here.
Downloading a single movie file from YouTube
When you just what to download a single movie from YouTube the easiest way to do so is getting the URL of the YouTube page where the movie is displayed. Once you got the URL all you have to do is paste it in the text box above the file list saying 'Video URL', then click the + button and the movie will be downloaded.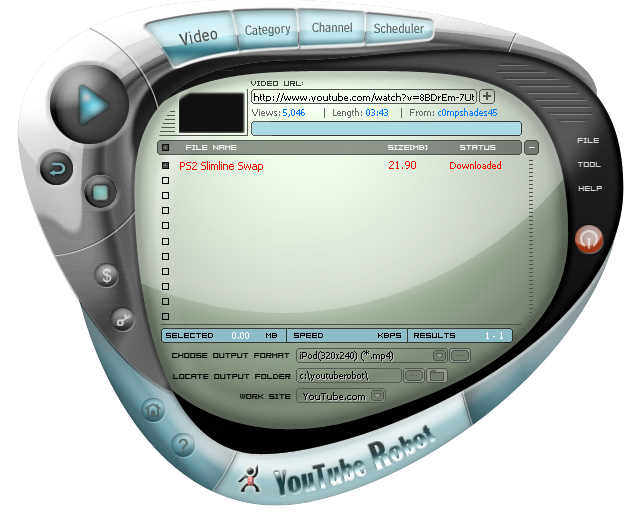 Downloading multiple movies by browsing
You can also download multiple movies using YouTube Robot to do so you have to go to 'Video' or 'Category' in the top menu and select a sub menu of your choice. For example if you want to download the top 20 most viewed YouTube movies in the comedy category you go to: Category > Comedy > Most Viewed > Page 1 (1-20), and the downloads will automatically start. Of course you can do it for any category or with any filter (most recent, top rated etc) as you can see in the image below.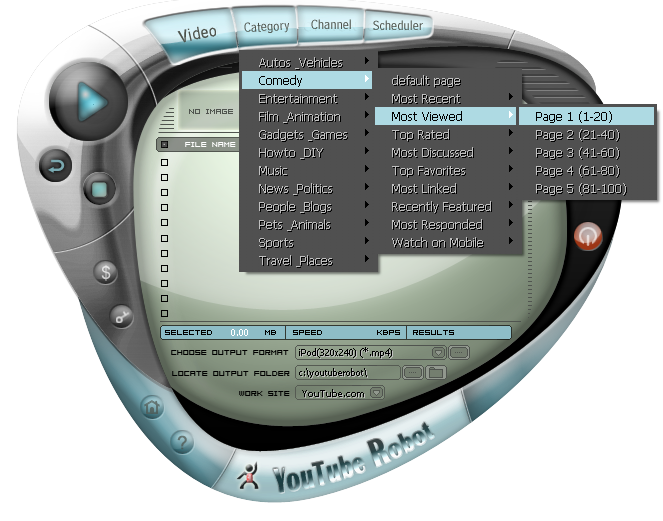 ---
Converting FLV files with YouTube Robot to any other extension

You can use YouTube Robot to convert all the .flv files you downloaded from YouTube to any of the following formats: MP4, WMV, AVI, MPEG, 3GP, MP3, and WMA. (the last 3 are to be used if you just want to audio)

To convert a file using YouTube Robot you should go to the the 'file' button on the left side of the program and select 'Convert local *.flv' and select your FLV file.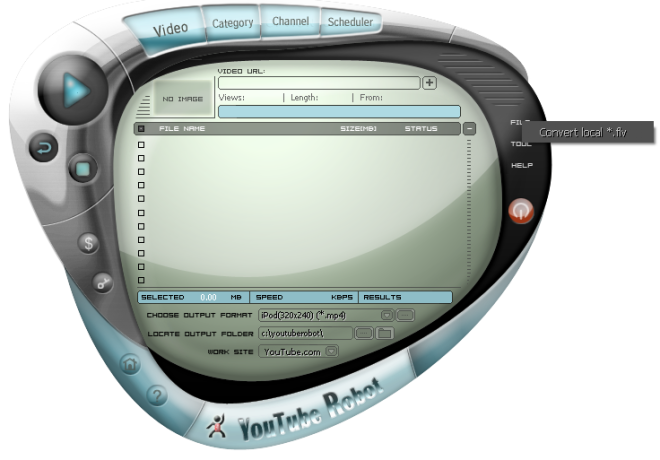 ---

After you have selected your file and it is displayed in the list you can choose your output format in the list below your file list.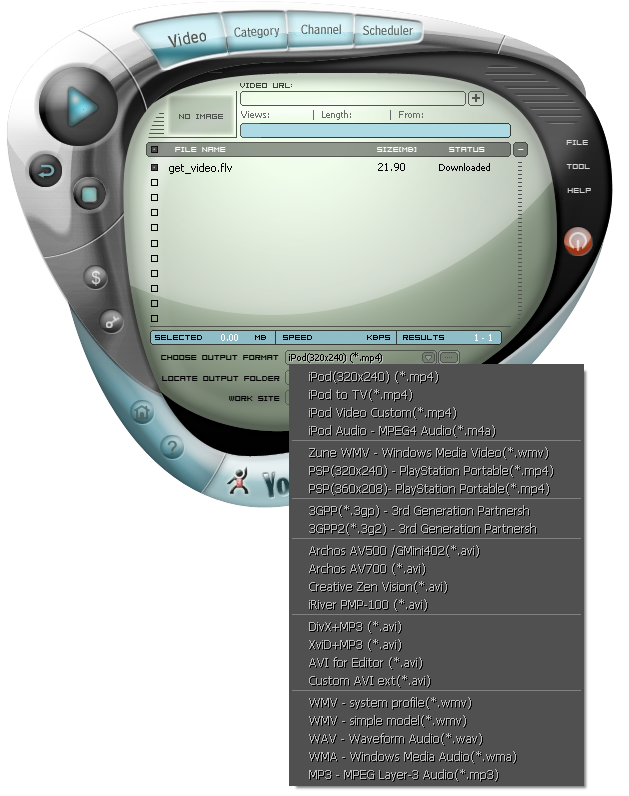 ---

Now you only have to select your output folder (the folder where you want the converted file to be saved to) and your work site (in order to define the input video format). Once you selected this just right click on the file in your list and click 'convert selected' and after a few minutes you'll have the Youtube video in a new format.
How to let all you downloads be auto converted to your chosen format after completed download
For example you want to download 20 movies from YouTube and they will all be downloaded in the .flv extension but you want them to be in for example 'IPod(320x240) (*.MP4)' format. All you have to do is go to Tools > Options in the right side menu.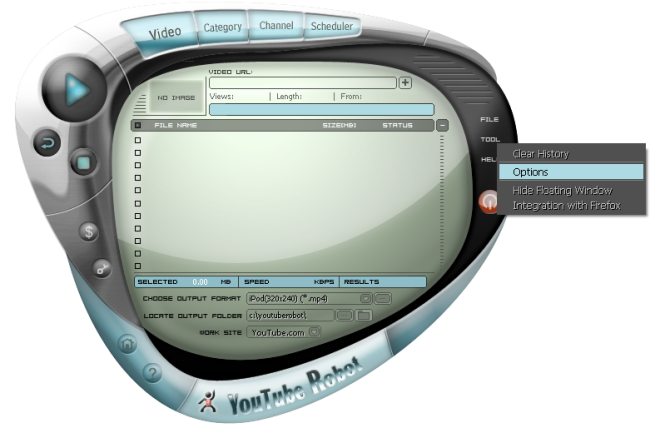 This Settings window will pop up and if you want to auto convert your files you have to select: 'Auto Convert After Download' and all your downloaded files will be automatically converted to your chosen output format from now on.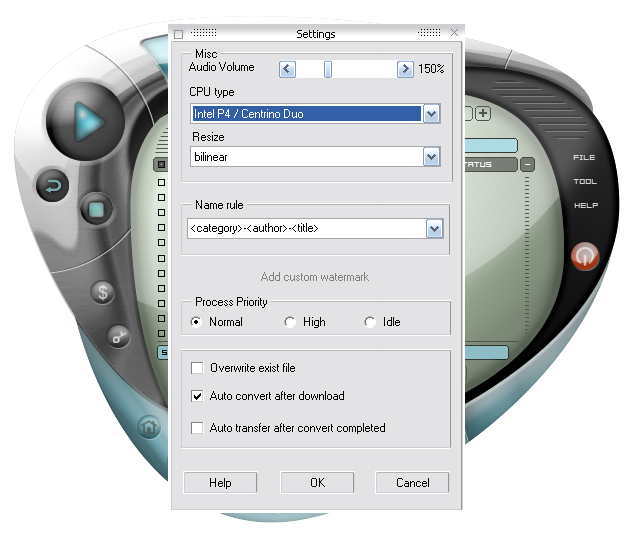 If you want your download to be (for example) automatically transferred to your IPod you also have to check the 'Auto transfer after convert completed button' and of course set the output location to your IPod's location on your computer.
How to schedule your downloads with YouTube Robot
You can also schedule your download tasks with YouTube Robot. For example you can always have the most recent YouTube movies on your PC (or even better on your iPod). To do this you have to go to the 'Scheduler' in the top menu.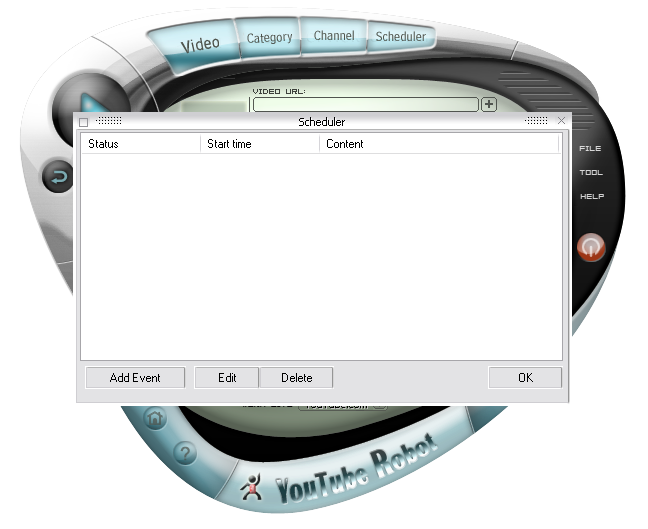 If you want to add a new event to your list or edit an old one you should click it and configure the following options.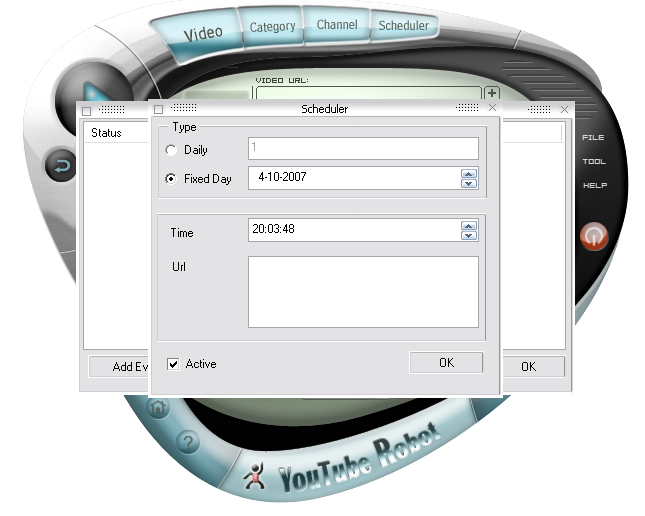 In this box you can set the time you want your download to start for example on a fixed day: 04-10-2007 at 20:03:48 and all you have to do then is set the URL of what you want to download and click OK. For example the URL to get all the most recent movies to your pc is: 'http://www.youtube.com/browse?s=mr&t=t&c=0&l=' and for the most linked videos: 'http://www.youtube.com/browse?s=mrd&t=t&c=0&l=' and so on. You can find these URL's on YouTube.
So if you configure YouTube Robot cleverly you can schedule it to have the most recent videos from YouTube automatically downloaded and converted on your iPod (or any other media device) daily.