After the indisputable success of the Apple iPhone, most manufacturers now offer mobile phones with much bigger and better screens than before. As a result watching a whole movie on your mobile is now actually possible without hurting your eyes by a tiny screen, which means that instead of just converting some small clips most users now want to know how to convert a DVD from their collection to a file playable on their iPhone or other device.
There are many utilities around that promise that task but certainly the best all-in-one solution is
Slysoft's
CloneDVD Mobile
. Of course you may want to try some of the free programs that could do this task, like
Handbrake
, but we feel that a well made and supported program like CloneDVD Mobile will benefit most users in the long run, so we will it for this guide and probably review some other alternatives in a future guide.
Step 1
First of all you need to decrypt the DVD and rip it to your hard drive. A good solution is DVDFab HD Decrypter for which you can follow our guide here. An alternative is Slysoft's AnyDVD which runs in your tray and removes all protections. You can buy a bundle of both AnyDVD and CloneDVD Mobile with a 20% discount by clicking here.
---
Step 2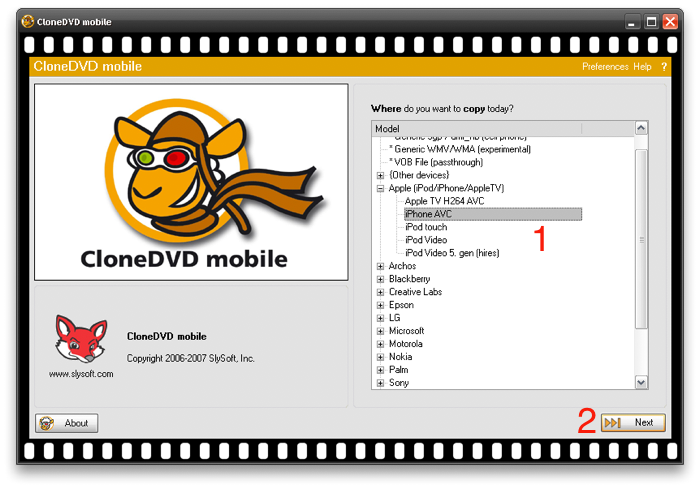 CloneDVD Mobile's interface follows a wizard-like style which guides your through the steps necessary to convert your DVDs. First of all select the device you want your converted movie to play to, in our case iPhone (1) and then click Next (2).
---
Step 3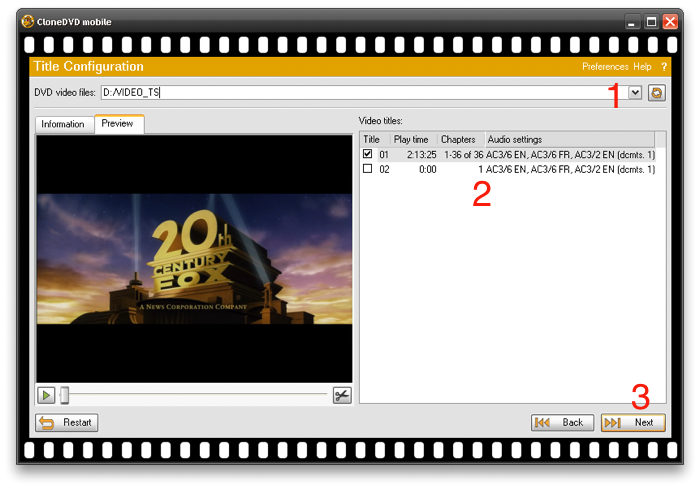 Now you need to select the VIDEO_TS folder that contains the DVD files (1). In our example we are using AnyDVD so we just select them straight from the DVD drive, if you ripped the DVD first just select the right folder in your hard disk. Then select the longest video title that naturally contains the movie (2), and click Next (3).
---
Step 4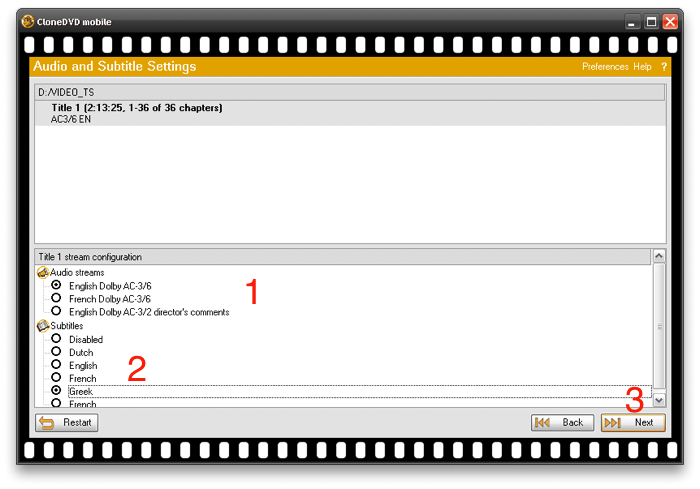 Here you have to select your desired audio language (1) if your DVD has more than one audio stream. You can also enable subtitles display (2) and CloneDVD Mobile will burn the subtitles into the video. However note that in devices will small screens you may have trouble reading them. Finally click Next (3) to move to the last options screen.
---
Step 5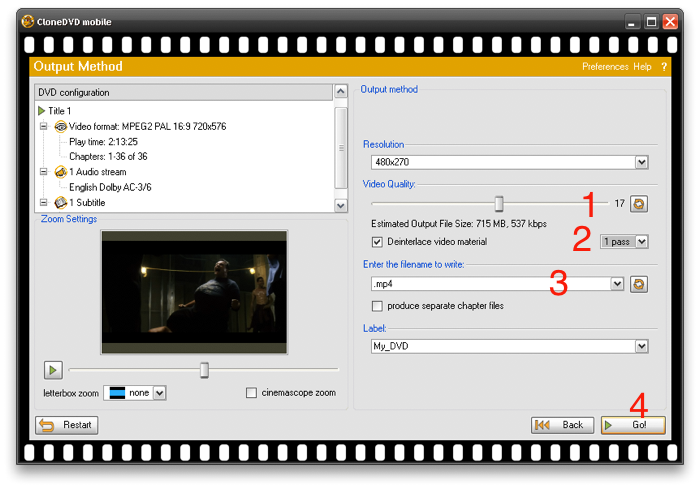 Using the video quality slider (1) you can set your desired size / quality ratio. Note that a file around 700MB big should be more than enough to maintain good video quality. You can also enable 2 pass encoding (2) in order to further improve the quality but keep in mind that it will about double the encoding time. Last but not least, set the output filename (3) and click "Go!" (4) to start encoding.
---
Step 6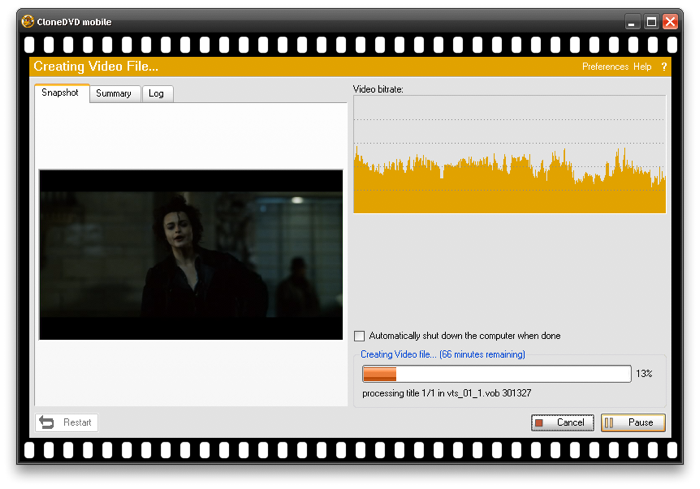 That's it! Some minutes or hours later (depending on your PC's speed) you will have finished converting your DVD to a file compatible with your iPhone. Remember you can visit our forums for help if you encounter any problems and be sure to check in our guides section for more related guides!