Usually when you want to copy a DVD-9 disc you use a transcoding application like DVD Shrink, you remove the extras and all the audio tracks except one and you compress the main movie a little. This way you use only 1 disc, but you don't get the original quality of the source DVD and of course you don't get all the DVD contents like extas, making of and trailers. And here comes DVDFab. DVD Fab is an application that will let you split your DVD-9 into 2 DVD-R, so that you can get the original quality and all the extras you used to leave outside.
You can buy DVDFab here. For the ones that would like to test it first, you can also find a trial version here. Just to let you know, despite the fact that most commercial DVD backup software do not include a ripper, DVDFab does include a Macrovision and CSS ripper. Enjoy!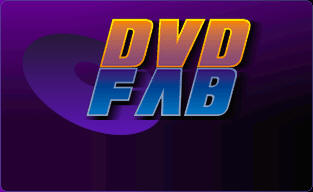 ---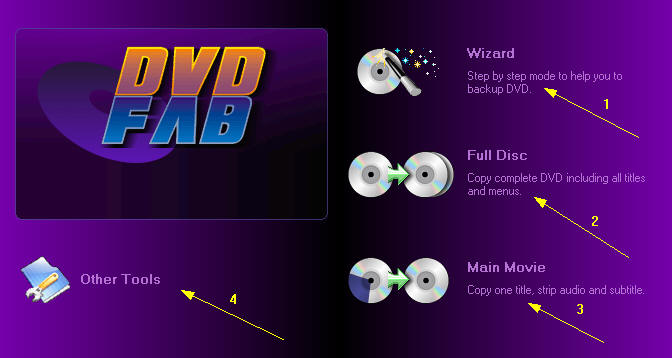 This is the first screen of DVDFab. The Wizard (1) is a number of steps that will let you copy your DVD. It will analyze your DVD and let you select the way you want to copy it. Full disc (2) is usefull when you are sure you want to split everything in 2 disc and Main Movie (3) when you want to copy only the main movie.
As I told you before, DVDFab will not compress the movie, so if you select Main Movie you have to be sure that the main movie will fit into 1 DVD. In many cases it will not, that's why I suggest you select Wizard mode. The Other Tools (4) contain many useful tools that we'll use in some other guides! In this guide we are going to ise the Wizard mode so click on Wizard (1) to continue.
---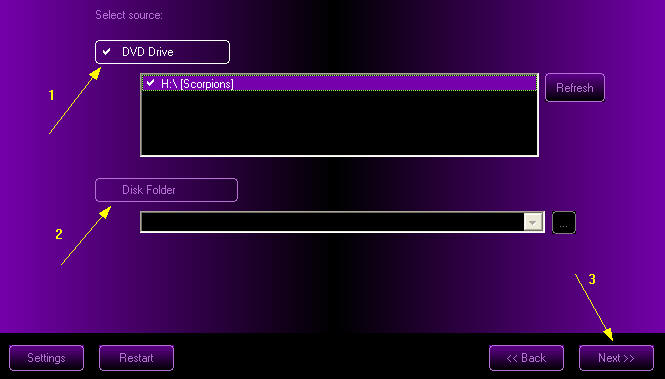 Now you need to select the source. (1) Let's you select from your DVD driver and (2) from a folder in your hard disk that you may have ripped files into. Make your selection and click Next (3).
---



These are the options you have after DVDFab analyzes the disc. As you can see some of them are greyed out. Let's have a look. (1) This splits the DVD-9 in two DVD-R discs. We are going to follow this, so I am going to explain more in the next step. (2) This option speads the titles in two discs. You should use this one only when you are copying season discs (also known as episode discs, for example a DVD that contains episodes of the "Friends"). (3) This option lets you copy only the original movie and leave the extras outside. Be careful, DVDFab does not support compression so this option will be available only when the main movie is under 4,38GB. In our example it is not, so this option is not available. (4) This is a DVD-5 copy and as you can see it's not available as it works only with DVD-5 discs which can be copied "as is".
We are going to use the first option, so click (1) to continue.
---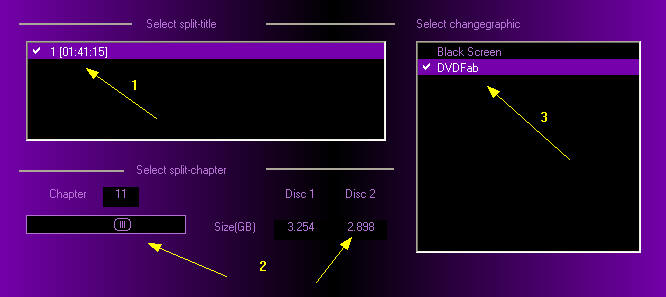 First of all select the titles you want to split (1). Here is only one, but keep in mind that you always choose the bigger one. Then select where to split the title (2). DVDFab will select a chapter to split the titles so that there is about the same ammount of data in each disc. You can change this and have a look to how much data goes to each disc too(2). Finally you can select to show something when it is about to change the disc (3). When you're done with this settings click Next.
---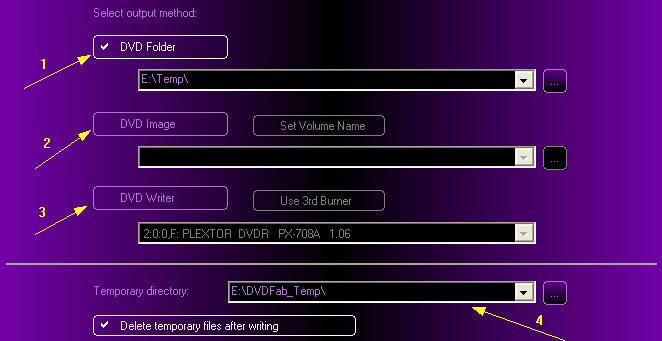 Finally you can select the output method. (1) You store the files to a folder if you use this one. Just specify a folder and DVDFab will create two folders (Disc1 and Disc2) and create the DVD files in. (2) This one creates an ISO image that you can burn later using a DVD burning program. (3) This is the option you'll use more. Select your DVD burner, a folder for the temp files (4) click Go and you're ready!
---



That's all. DVDFab is probably the best DVD-9 splitting out there right now. You can buy it here.