There are a lot of guides in our site that cover authoring a video DVD, playable in all standalone players, from various video files. However software keeps improving so we have to adjust our site's content in order to keep it updated to the latest installments. One of those, DVD Flick, an excellent open source program that makes heavy use of ffmpeg in order to convert a massive amount of different video formats and burn them to a video DVD.
In this guide we will explain in detail how to use DVD Flick, and when appropriate compare to other solutions.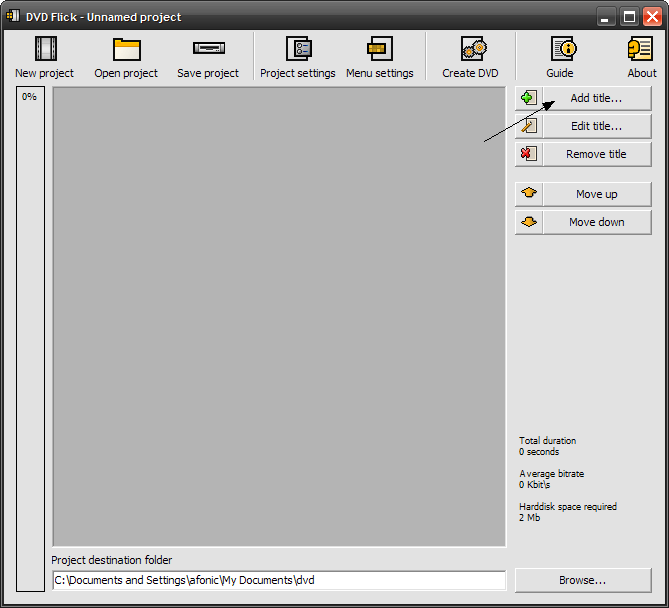 This is the main DVD Flick window. Notice the buttons to Save or Open a project, Project settings and Menu settings. To get started we will add a video file, so click at the Add title button in the side.
---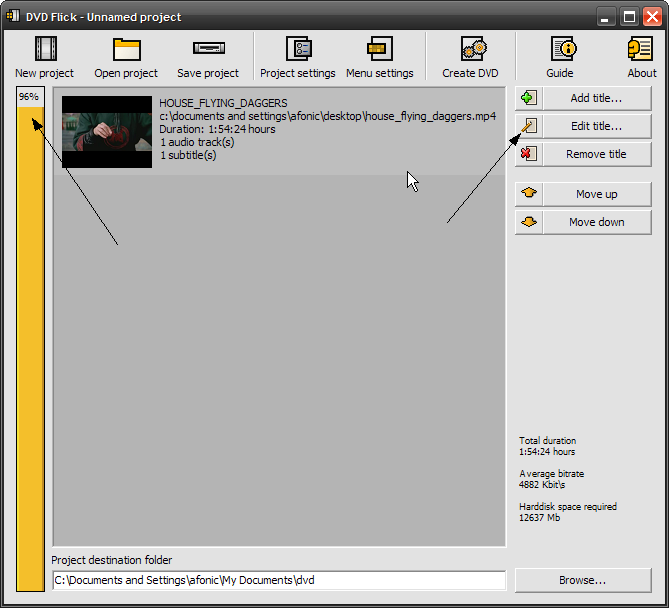 When the video file is loaded a yellow bar in the left side will show you how full the DVD disc is. However note that DVD Flick will auto adjust the bitrate so that you can fill a disc with less or more content, but it is recommended you don't exceed 3 hours of play or the quality will greatly suffer. Of course you can add multiple video files but since in our example we have one big movie we will not add something else. To continue, click Edit Title while you have the video selected and move to the next step.
---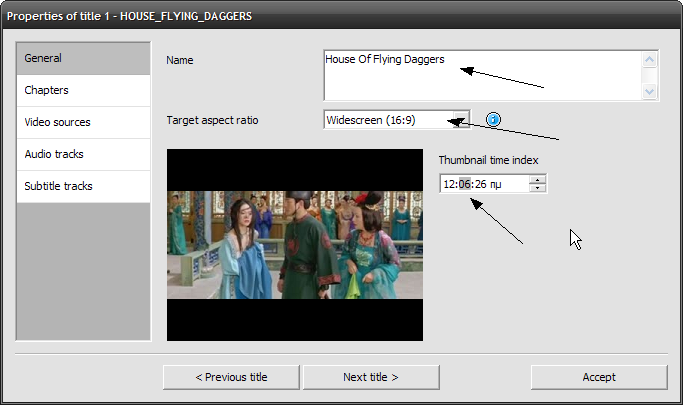 In the General settings, make sure you write the name of the movie / episode cleanly as this is what will appear in the DVD menu. The Target aspect ratio should already by detected, just check it to make sure it is correct. If needed you can change the Thumbnail time index in order to change the thumbnail of the video file that will appear in the program and the menu. When ready, move to Chapters tab.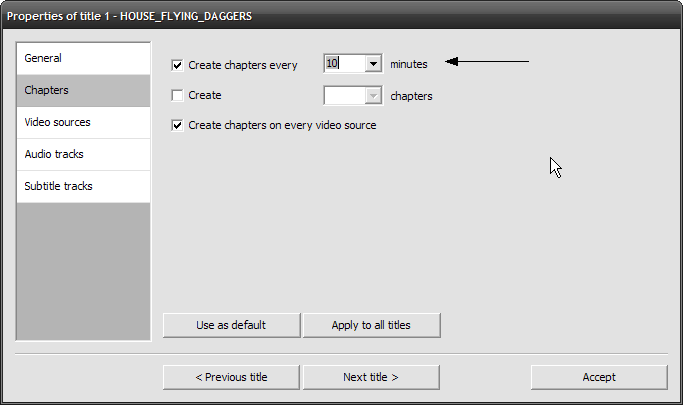 It is a good idea to add some chapters in our DVD in order to navigate more easily through the movie, so select Create chapters every and set the time to whatever you like. Next, move to Audio Tracks.

---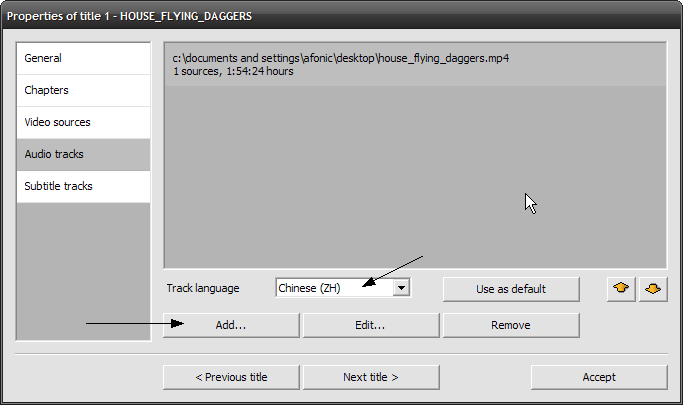 The audio track that your source video file contains should be already added here. Set the default Track language so that it displays correctly in the DVD player. You may also add another track (for example you may have an mkv source with more than one languages). Finally, move to Subtitle tracks.
While Matroska (.mkv) is in the list of DVD Flick's supported formats, some files refused to correctly add the audio tracks and in some other ones the subtitles where missing. In that case you can use this guide to split the mkv file before and add each audio and subtitle stream manually.

---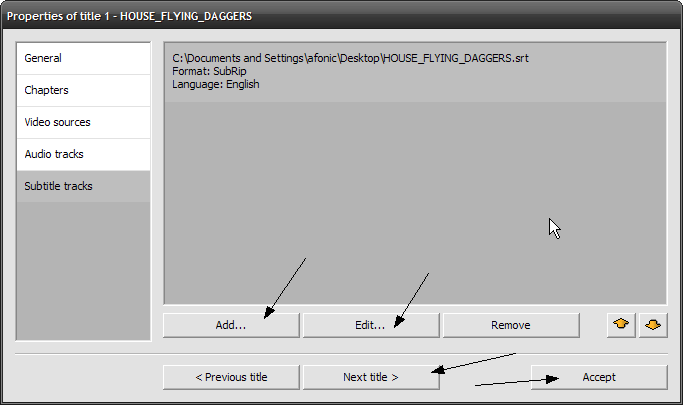 In the Subtitle tracks tab you can manage your subtitle streams. Most of the popular types like .srt, .sub etc are supported. Add a file and then click Edit to control the subtitles appearance.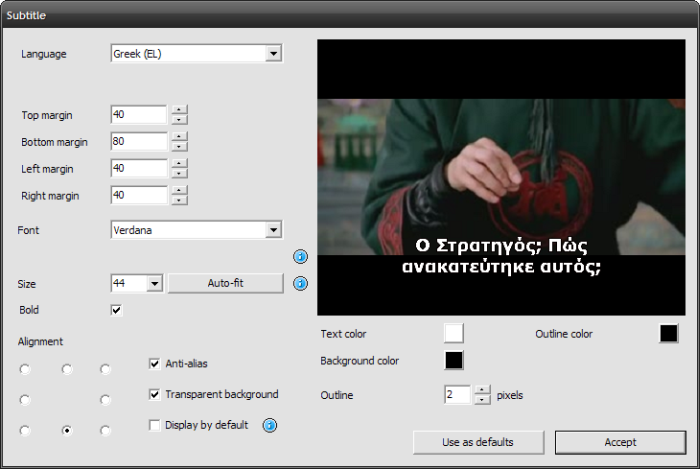 Here you can set the

Language

and change the

margin

values so that the subtitles appear where you want them. It's a good idea to click

Auto-fit

or change the

size

yourself to your liking. The rest of the options provide pretty good results as is, so feel free to leave them at their default values and click

Accept

.
---

Close the

Title settings

screen we opened in Step 3 and in the main window open the

Project settings

dialog by clicking the button with the same name.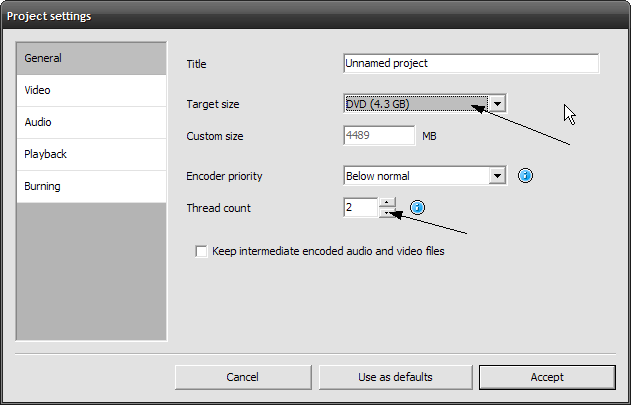 In the

General

settings make sure the

Target size

is at 4.3GB (unless you want to create a DVD9 of course!) and set the number of

Thread count

according to your CPU. (for example for dual core set it to 2, for quad core set it to 4)
Next, click the

Video

tab.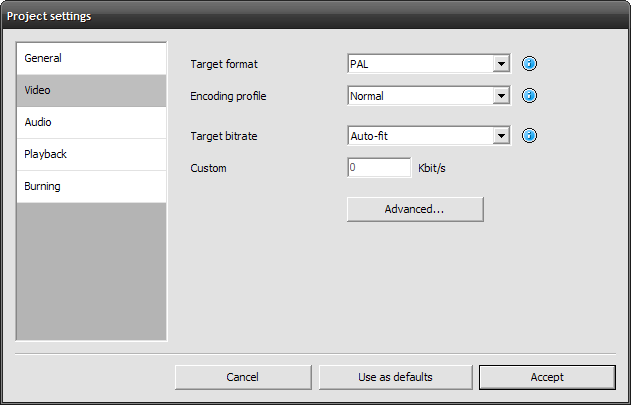 Here you have to set the

Target format

depending on what your DVD player supports.

Encoding profile

is actually a choice between quality and speed. If you want to convert as fast as possible, obviously select

Fast

. Otherwise

Normal

is good enough. Use

High

only if you have put a lot of video in the DVD (other 2 hours) and you want to i quality as much as possible.

Target bitrate

should be set to

Auto-fit

.
Finally click at the

Burning

tab.
---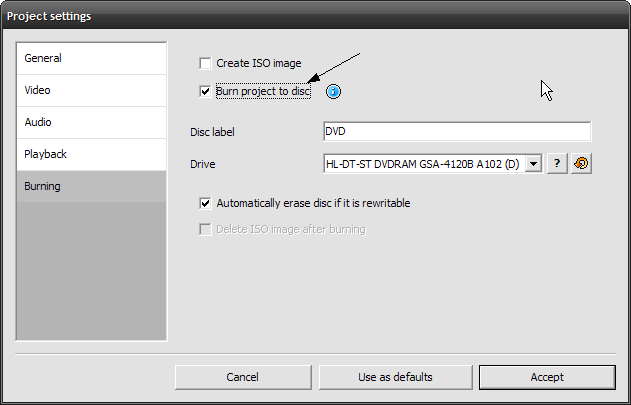 DVD Flick includes ImgBurn in order to create an ISO or burn a DVD right after it finishes processing the files. Of course if you select nothing here it will just create the DVD files. It is generally a good idea to check the video files before you burn the DVD so you may want to leave this off or just create an ISO. In our example I enabled burning a DVD right after the encoding is done.
Click Accept to get back to DVD Flick main window and there, click the

Menu settings

button on the toolbar.
---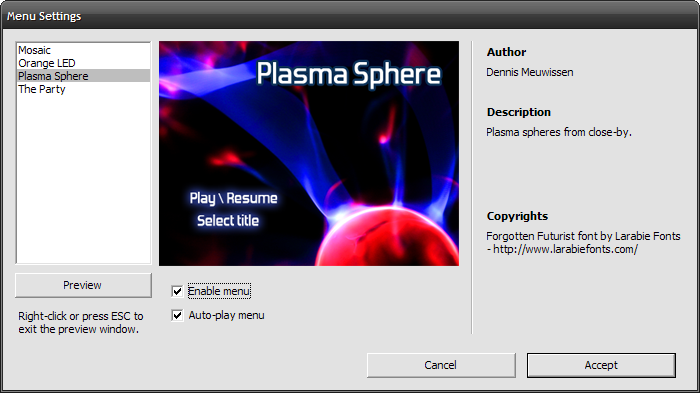 Everything is pretty straightforward here: if you want a menu choose the appearance you like the most, select

Enable menu

and

Auto-play

and click

Accept

.
Double-check everything and when you are sure you are ready, click the

Create DVD

button in the main window to start the conversion.
---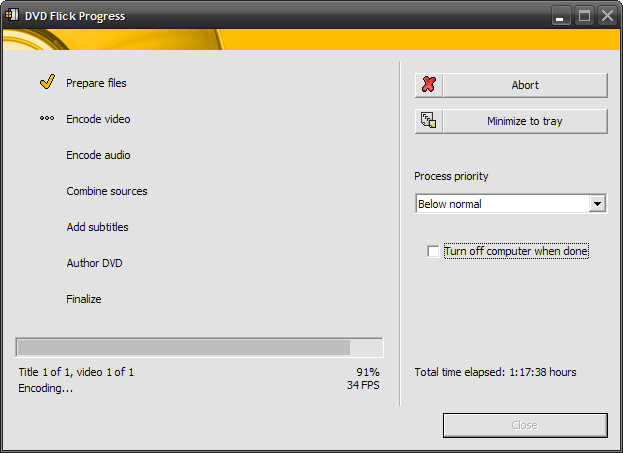 That's it! DVD Flick is a great piece of free software. While being extremely powerful and feature full, it remains user friendly. The only downside I could find was a few bugs when dealing with out of the ordinary formats like WMV and RealVideo and the conversion speed. Even in "Fast" encoding profile it was over 50-80% slower when compared to commercial solutions like ConvertXToDVD.
Generally I suggest you give it a try, you have nothing to lose and chances are you won't be disappointed, especially when comparing it to other free / open source solutions. For problems or questions feel free to visit our forums.